Two AE undergrads receive Brooke Owens Fellowships
Now in its sixth year, the Brooke Owens Fellowship has become more and more popular because recipients, known as "Brookies," are paired with two senior or executive-level mentors and matched with one of the program's host institutions for a paid summer internship. This year, 51 students were selected for 2022, the fellowship's largest class. Two University of Illinois Urbana-Champaign aerospace engineering undergraduate students were chosen from over 1,000 applicants from all over the world.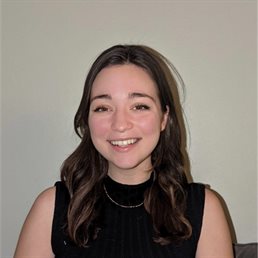 Erika Jarosch, a senior from Barrington, Illinois, has been assigned to Sierra Nevada Corporation in Colorado.
Priyanka Sarangabany, from Geneva, Illinois, is a junior. She will work at Astranis in San Francisco, California this coming summer.
The application materials for a Brooke Owens Fellowship are unusual. In addition to a professional resume and letters of reference, applicants must create a long essay of approximately 750 words from a list of prompts that are complex and personal. They must also create a multimedia essay that reflects their interests and talents. Applicants can choose any format that isn't written prose, such as a poem, a fictional story, an animation, a song, comic book, or video under five minutes in length.
Both Jarosch and Sarangabany chose the same prompt for the long-essay assignment, but their answers are as unique as they are as individuals.
The prompt read: During a summer internship, would you prefer to broaden or to deepen your technical/ professional skill set? Which specific skill would you most like to grow, and why?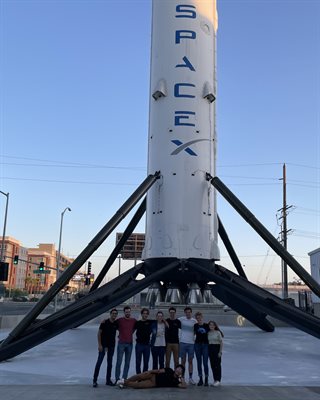 Jarosch said she wants to develop a technically diverse perspective to allow her to become a strong engineer and valuable resource for future teams in industry. "Broadening my professional skills also allows me to understand how to best communicate, support, and encourage other people on my team. Breadth of experience is very important to me, so that I can learn to interact with a variety of people and perspectives across the world throughout my career and life."
She said although she values teammates who are "masters in their specific technical field, I know that's not where I fit in."
During an internship at Collins Aerospace, she learned more about the vision, empathy, and strategic foresight needed to be a strong leader. "I began to investigate what areas of engineering I could pursue, which then led me to a software-systems internship at SpaceX this past summer," she said. "I had an incredible mentor-manager who taught me about communication across teams, departments, and different minds. I learned that some technical knowledge is important to help engineers relate to one another as well as optimize every step of a products' life cycle, but you do not need to be the expert.
"My dream is to be an inventor, and one that is empathetic, powerful, and technical," Jarosch said. "I want to learn from the brightest in the field and develop my toolbelt to not only be a stronger engineer, but also a compassionate leader. Continuing to pursue diverse professional opportunities within the area of space technology development will help me with my goal of becoming an adept critical thinker and skilled problem solver."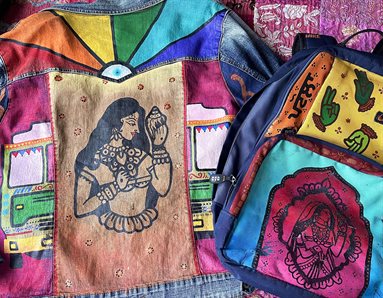 Sarangabany began her essay describing how she cut 14 inches of her hair as a symbol of overcoming the challenges she faced during the global pandemic. "From my outward appearance to my internal mindset, the global pandemic had a major impact on the person that I am today," she said.
Motivated by the against-all-odds she observed from her parents' determination to leave India and build and family and life in Illinois, Sarangabany made the conscious decision to "persevere in the face of adversity and achieve my academic and professional dreams, no matter how ambitious."
One way Sarangabany did this was to take advantage of opportunities that presented themselves to her.
"Despite travel restrictions, I broadened my worldview through a virtual study abroad," she said "I formulated a literature review, budget outline, and research proposal for drone noise reduction solutions through computer aided design. Considering the remote nature of this opportunity, I worked independently to develop my deliverables. Contrary to my presumptions of the engineering field, I found myself free of constraints. Through this opportunity, I strengthened my self-management skills by applying strategic thinking."
Armed with a better grasp of her strengths, Sarangabany sought out research opportunities. She began working with AE faculty member Kai James in the Center for Power Optimization of Electro-Thermal Systems, where she conducted artificial intelligence research. "As a lover of art and computers, I discovered that computer aided engineering for design optimization of aerospace structures perfectly combines my academic and personal interests. I was in awe when I saw the beautiful, organic-looking structures the machine learning frameworks generated from unseen design parameters.
"I am enthusiastic about improving my understanding of topology optimization, finite element analysis, and computer programming," she said. "I am confident that I would like to continue exploring what this field has to offer throughout my undergraduate years and beyond."
The two fellowship recipients demonstrated their creativity and depth of character in the multimedia essays they submitted.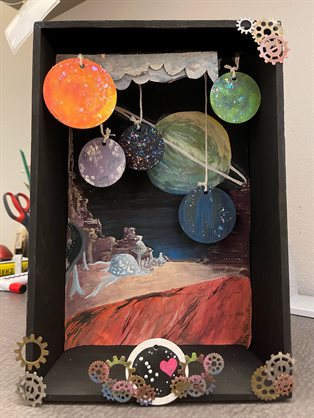 Jarosch captured her creation of a shadow box, each surface representing different aspects of her life, using time-lapse video. In the audio, she spoke about her family, the steps leading up to her apartment, and her academic life in Talbot Laboratory. While the video shows Jarosch painting and hanging a miniature solar system in her shadow box, she speaks about the things that bring harmony to her life, such as her friends, family, plant babies, and favorite movies. She is heard saying, "one of the planets is just covered with glitter, but it's valid, because glitter is one my passions, as well."
Sarangabany chose to describe her passions in life in a selfie video tour of her room. She began showing examples of how she uses her artistic talents to express herself through art and fashion. The back of a jacket and a backpack showed her Indian-inspired hand-painted embellishments. About a stack of journals on a small table, she said, "they provide an outlet for me to practice self-reflection and gratitude." The video tour also included a wall of aerospace-related photos and mementos.
According to the Brooke Owens Fellowship website, anyone who identifies as a woman or another type of gender-minority may apply. They must be enrolled in a college, university, or community college. Although, any major or concentration is acceptable, applicants who are pursuing a full-time career in the aviation or aerospace industry are more often selected because the program is designed to be an on-ramp into the aerospace industry.
The Brooke Owens Fellowship Program was founded by Lori Garver, Cassie Kloberdanz Lee, and William Pomerantz to honor their friend who passed away in 2016 at age 35 from cancer. Owens was an alumna of Embry-Riddle Aeronautical University and the International Space University and a pilot. Professionally, she worked at the NASA's Johnson Space Center, the non-profit XPRIZE Foundation, the Federal Aviation Administration's Office of Commercial Space Transportation, and the White House Office of Management and Budget.