Formula SAE design team takes first place in two categories
Out of the 132 competing institutions, this year's Formula SAE design team at the University of Illinois Urbana-Champaign took first place in two categories— Overall Highest Static Score, and Design Presentation for the internal combustion class.
The UIUC Illini Motorsports team's president is aerospace engineering senior Salam Mulhem.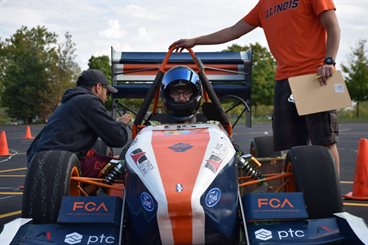 "This year has come with a lot of challenges for us with Covid-19, but the team has truly pushed harder than we ever have before," said Mulhem. "We've grown so much, recently celebrating our 40th season, so this is super special for us. We are truly proud of how far we've come as a team."
Mulhem thanked the University of Illinois Department of Mechanical Science and Engineering, The Grainger College of Engineering, the team sponsors, alumni, and the volunteers who make FSAE happen.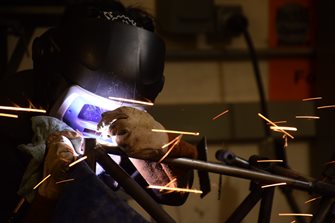 "We owe this experience to all of you. And of course, a massive thank you to every student who poured their heart and soul into the team. Congratulations. We can't wait to celebrate and we're excited to see where the future takes Illini Motorsports."
The awards ceremony can be viewed on YouTube with comments from Mulhem at 32:42 and again at 42:41.
Formula SAE coordinators said due to the pandemic this year, some modifications were made to the competition. For example, rather than an eight-page written paper, the teams created a PowerPoint presentation
for the design review. Formula SAE representatives said many companies commonly conduct design reviews and go through the process of accessing and comparing concepts using a similar format.
They noted that the design presentation finalists in the
combustion class had an extremely tight race with the National University of Singapore in third place, Purdue University in second place and UIUC in first. The same institutions finished first, second, and third in the top three overall knowledge category.
A complete list of the teams and awards is available on the Formula SAE website.