New certificate in hypersonics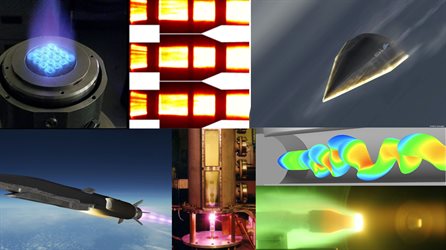 The Department of Aerospace Engineering at Illinois recently added a specialized graduate certificate in hypersonics to its portfolio of certificate options. This new certificate is designed to provide the fundamentals of this multidisciplinary subject area, with attention to emerging topics and advances in hypersonic science and technology.
Students complete three graduate-level courses, for a total of 12 credit hours, to earn a certificate in hypersonics. Courses can be taken online or on-campus. Note that up to 12 credit hours can be applied toward a master's degree.
AE 498: Hypersonic Aerothermodynamics (4 credit hours)
AE 451: Aeroelasticity (4 credit hours)
AE 510: Advanced Gas Dynamics (4 credit hours)
AE 512: Molecular Gas Dynamics (4 credit hours)
AE 514: Boundary Layer Theory (4 credit hours)
AE 598: Planetary Entry (4 credit hours)
ME 598-KS: Dynamics of Gas/Plasma-Surface Interactions (4 credit hours)
Hypersonics flight systems are at the forefront of modern national security, transportation, and space exploration. In designing hypersonic vehicles, aerospace engineers face tremendous challenges associated with extreme aerodynamics, thermochemistry, advanced high temperature materials and rapid control.
Why Illinois?
The Department of Aerospace Engineering is home to the nation's finest scholars in hypersonics research. Two centers, the Center for Hypersonics and Entry System Studies and the Center for Exascale Enabled Scramjet Design, coordinate hypersonics research and education across The Grainger College of Engineering at Illinois.
CHESS is led by AE Caterpillar Professor Marco Panesi and represents the expertise of over 20 researchers, making Illinois a leader in hypersonics research and education.
CEESD is co-led by Willett Professor and Head of the Department of Aerospace Engineering Jonathan Freund. The center brings together high-performance computing with engineering analysis and design.