Emma Clark awarded SMART Scholarship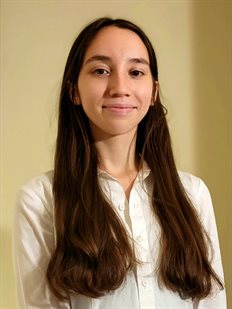 AE graduate student Emma Clark was awarded the Department of Defense Science, Mathematics, Research for Transformation Scholarship.
This award provides students with full tuition for up to five years, mentorship, summer internships, a stipend and full-time employment with the Department of Defense after graduation. This unique opportunity offers students hands-on experience at one of over 200 innovative laboratories across the Army, Navy, Air Force and larger Department of Defense. During summer internships, SMART scholars work directly with an experienced mentor, gaining valuable technical skills. After graduation, Clark will work at the Air Force Research Lab Sensors Directorate at Wright-Patterson Air Force Base, in Ohio.
Clark received her B.S. in aerospace engineering from the University of Illinois Urbana-Champaign in December 2021. At the same time, she completed her B.S. in physics from Western Illinois University in Macomb.
She is currently working on a master's degree, studying with Assistant Professor Negar Mehr in the Department of Aerospace Engineering. Clark works in Mehr's Intelligent Control lab, developing algorithms for autonomous systems to interact with other agents safely and intelligently, drawing from control theory, game theory, robotics, and machine learning. Mehr is also associated with the Coordinated Science Laboratory and the Center for Autonomy.
"In the ICON lab, I work on developing control algorithms for coordinating multi-robot systems. I collaborate with graduate and undergraduate students to develop and test code for game-theoretic based autonomous planning of various multi-agent systems," Clark said.
The Department of Defense is committed to developing the Nation's STEM talent and is the largest employer of federal scientists and engineers with nearly 150,000 civilian STEM employees working across the Department. DoD STEM activities support this mission by providing authentic learning experiences through a variety of education and outreach initiatives, such as the SMART Scholarship-for-Service Program. For over a decade, SMART has trained a highly skilled STEM workforce that competes with the evolving trends of industry to support the next generation of science and technology for our nation.
The SMART Scholarship-for-Service Program is a combined educational and workforce development opportunity for bachelor's, master's, and Ph.D. students to gain technical skills in critical STEM fields and support the national security mission of the Department of Defense.