AE senior Nic Davis selected to UIUC Homecoming Court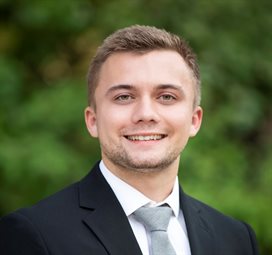 Residents in Scales Mound, Illinois are no doubt bursting with pride this week as one of their own was selected to the 2023 Homecoming Court at the University of Illinois Urbana-Champaign. Aerospace engineering senior Nicholas Davis is from the community of a little over 400 people in Jo Daviess County. That's about 200 fewer than the number of undergrad students in his department at UIUC.
After he learned he was nominated, Davis said he was invited to apply to be on the court. All the applications were scored, with 30 qualifying for an interview. From those, the final 20 were selected.
The Homecoming Court is composed of student leaders in senior standing, who are selected based on their academic achievements, campus leadership, and community involvement. Those selected to serve on the court are viewed as role models for their peers and outstanding representatives of the University of Illinois student body.
While at Illinois, Davis served as president of the Honors Student Council, as a member of the Campus Honors Program, and is a member of the James Scholar Honors Program within The Grainger College of Engineering.
Davis said the Honors Student Council committees create events for the students within the honors program to provide opportunities to learn new things outside of a classroom setting, meet new people, volunteer, get creative, destress, and just have fun.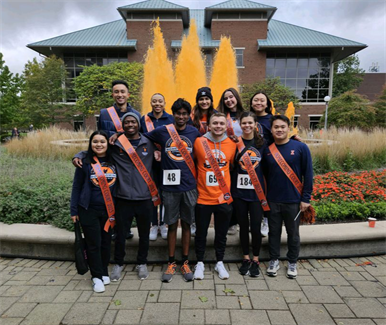 "As president, I helped the committees facilitate their events, and was also responsible for planning the yearly semi-formal dance," he said. "I was also head of the academic engagement committee in the year before I served as president."
As a member of the court, Davis said he is encouraged to attend a number of homecoming events this week.
"I ran the homecoming 5K on Sunday and there are homecoming-related events every night this week. As part of the court, I'll also attend the Alumni Gala hosted by the Alumni Association, be in the parade and at the pep rally Friday and announced at half-time of the football game on Saturday."
Although majoring in aerospace engineering at Illinois, Davis said through the James Scholar program, he was able to pick up a concentration in mechanical design to add to his coursework.
He has been involved with the university's electric formula racing team, Illini Formula Electric—including its aerodynamics, suspension, and drivetrain sub-teams through his sophomore and junior years.
Over the summers, Davis said he worked for his dad's small business pouring concrete in Scales Mound.
"This past summer, I interned with John Deere within the large agricultural division in Waterloo, Iowa. I worked on dynamic systems modeling as part of the Product Verification & Validation department. After my internship, I was given an offer to return as part of their Engineering Development Program and chose to work in the Construction and Forestry Division in Dubuque."
Davis is set to graduate in December and begin his new job at John Deere in January.