Emma Fries' adventure to Brazil
Aerospace engineering sophomore Emma Fries spent nine full days in Brazil with 14 fellow students through the AE-398 course Global Experience Brazil.
"We first arrived in Sao Paulo, which is the largest city in Brazil," Fries said. "We stayed there for three days; we visited some universities, we went to some companies, and then we flew to Rio for the weekend, pretty much so we could have cultural experiences and get to know the different regions of Brazil a little bit better."
The two-week trip was completely staff led. The group was accompanied by a guide the entirety of the time and also got the chance to meet some of the students of the different universities they saw.
"We went to three different aerospace companies," she said. "The first one was when we first got to Sao Paulo, and that was Embraer."
Embraer is one of the largest airplane manufacturers in the world and is the largest aerospace company in Brazil.
"We got to meet with them, and then they took us through their buyer-marketing experience where we got to understand how they advertise to their buyers," Fries said. "We had this amazing time in Embraer where they gave us an hour-long presentation about the history of their company, things that they're doing now, how COVID-19 affected them, and where they want to go with all of their aircraft stuff in the future."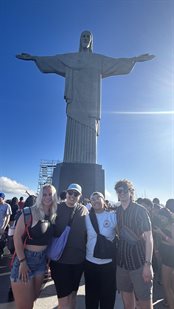 Fries talked to the Embraer staff about their small private jets and how the company wants to make them electrically powered for the environment's sake. The group of students were able to tour the manufacturing facility where they were shown the seven stages of how the airplanes were built.
"Unfortunately, we didn't really get to talk to the workers one-on-one and ask about their experiences in their company and their passions, but all of our tour guides were amazing — they were so helpful with helping us ask questions or even sending somebody to find information if the tour guide didn't know," she said.
When it comes to aerospace engineering, Fries is mainly interested in space. She found the trip to be enriching and useful, as it allowed her to see the many important parts of aerospace companies.
Upon arriving to Brazil, Fries and her group learned how the country's culture was accepting towards everyone.
"What we came to realize is that Brazil has such a rich history with immigrants and that it doesn't matter how much you know, because they just want to share everything with you," she said. "If they figure out you don't know why they're serving meat and beans as the specialty dish on Wednesdays, they want to tell you why, and they think it's so exciting to learn from us and then to show us their culture."
To those who are hesitant about doing a study abroad, Fries highly encourages them to take the chance.
"My first question to them would be, why do you think you're hesitant? Is it the fact that you're thousands of miles away and you've never been that far away? Is it the fact that you think you're not going to be able to understand what somebody's saying? Is it financial aid? You have to identify what you think is holding you back and then you have to work through it," Fries said.