AE Scientists Garner Best Fluid Dynamics Paper Award
Aerospace Engineering at Illinois researchers' study of a turbulent boundary layer's interaction with a thin, flexible panel has won the American Institute of Aeronautics and Astronautics Fluid Dynamics Best Paper Award for 2013.
Recent AE doctoral student Christopher Ostoich will be recognized along with co-authors, AE Department Head Philippe Geubelle and Associate Prof. Daniel Bodony, at the AIAA Aviation and Aeronautics Forum and Exposition June 16-20 in Atlanta, Georgia. The paper was entitled, "Direct Numerical Simulation of the Aerospace Response of a Panel under High Speed Turbulent Boundary Layers."
"The problem was motivated by the desire to design and build reusable hypersonic vehicles that, because of weight constraints, cannot be assumed to be rigid," Bodony said.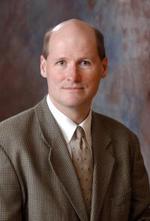 "
The turbulent boundary layer generates unsteady loads on the panel. The panel, in response, vibrates and its surface deforms. The deforming surface causes the turbulent boundary layer to change, and the problem becomes fully coupled," Bodony explained. "In particular, the panel-boundary layer interaction leads to unknowns at the design stage for which conservative safety margins are included that make the vehicle too heavy to fly. Our simulations were to identify what changes were possible that might impact the design-level models."
Ostoich was responsible for all aspects of the simulations. He developed a new nonlinear finite element and coupled it to Bodony's existing flow solver.
"Chris's simulations are called direct numerical simulations where sufficient numerical resolution was included to resolve all scales of interest so that no modeling was used; to my knowledge this is the first direct numerical simulation of its kind," Bodony said. "Chris's results showed that there can be a measurable difference in the turbulence that can impact the accuracy of design-level tools."
The original contribution was supported by the Air Force Research Laboratory (Dr. S. Mike Spottswood, technical monitor) and led to new work supported by the Air Force Office of Scientific Research (Dr. Rengasamy "Pon" Ponnappan, technical monitor).