AE student's prosthetic hand project reaches finals of Research Live! competition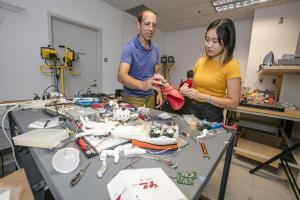 Kyung Yun Choi's research in using soft materials for prosthetic limb development has been chosen for the final presentations of the 2016 Research Live! competition.
An Aerospace Engineering at Illinois graduate student, Choi is among 14 finalists chosen from across the Urbana campus who have been invited to discuss scholarly work in front of a panel of judges in the University of Illinois Graduate College competition. The students will present from 4-6 p.m., Tuesday, November 15, on Stage 5 of the Krannert Center for the Performing Arts.
Choi's topic, "Impact Resistant Prosthetic Hand: The Soft Overcomes the Hard," addresses the lack of mechanical robustness in current prosthetic products, from the high-end state-of-the-art to low-cost 3D printable options.
"This is the main reason that people with amputations reject using robotic prosthetic hands daily," said Choi, who works in the research group of AE Associate Prof. Tim Bretl.
"I applied the idea of soft robotics to develop a prosthetic hand enabling a sensory motor control for upper-limb amputees," Choi continued. "We have built a mobile and compact prosthetic hand that costs less than $500 and is open-sourced so that anyone can easily build their own hand.
"I have been working on improving the robustness by introducing the compliant mechanism – softness to the prosthetic hand. I can achieve a high impact-resistant prosthetic hand that can handle huge impact from things like a hammer, a baseball bay, or a door.
"I would lie to show that flexibility – not rigidity or hardness – can help increase the strength of the structure," she maintained.
The panel of judges will choose the top three presentations, and the audience will be able to vote for a People's Choice winner. Competitors gave preliminary presentations to be chosen for the final round.