Deflecting asteroids; Conway proposes plan for Earthly invaders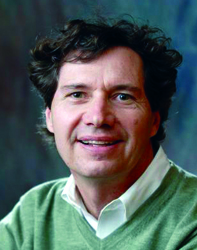 Standard sci-fi thrillers of an asteroid's collision with Earth build suspense by making all hope appear lost before the planet is miraculously saved in the last few tense moments.
Films like Deep Impact and Armageddon feature heroes that blow up the threatening asteroid just in the nick of time.
"In real life, our ability to change the motion of these very large asteroids is so minimal that you'd probably have to start doing something at least a year out," said Aerospace Engineering at Illinois Emeritus Prof. Bruce Conway. "But we can do something."
Scientists have explored ideas for diverting asteroids by sending nuclear weapons to explode on the invader's surface, the plots preferred by both movies mentioned. However, technology needed to make such explosions happen at just the right time could prove challenging.
"A nuclear explosion is complicated," Conway said. "You would need to detonate just before it hit the surface. When (the spacecraft) is moving 20 miles a second, that's difficult to time. A few thousandths of a second too late and you could hit the asteroid and the bomb doesn't blow up."
Conway envisions a simpler method.
"The one I always liked is deflection by impact," he said. "You could send up a spacecraft (about the size of a car, and traveling about the same speed as the asteroid) and simply hit the asteroid to give it a slight push. That would change the asteroid's speed by a few centimeters per second from what it was before and would put it on a course that would cause it to veer away.
"The collision mechanism is nice because it's very unsophisticated – you don't need a complex nuclear weapon," Conway said. "It's probably the cheapest method, too, although I don't think anyone would worry about the cost if an asteroid were going to destroy the Earth."
Conway began research almost 20 years ago on these theories. In 1999, the National Aeronautics and Space Administration's "Deep Impact" mission showed deflection could work, although that mission's purpose of running a spacecraft into a comet was to see under the surface of a comet's crater rather than to deflect it.
Conway has revisited the topic because of the European-led Asteroid Impact and Deflection Assessment (AIDA) mission planned for 2022 to collide a spacecraft into the asteroid Didymos. Scientists chose Didymos for practice because it isn't currently expected to collide with Earth. The mission carries a "do no harm" caveat: the "nudge" can't move the asteroid so that any of its resulting passes by Earth within the next 100 years can be closer than they would have been originally.
Conway spent two months in Fall 2014 working at the Observatory of Paris on the best approach to implementing this "do no harm" criterion.
"I came up with an approach for treating it as a problem in optimization: maximizing the initial deflection, by choosing the location and direction of the impact of the spacecraft, but subject to the constraint that no future encounters are closer than they would otherwise have been," Conway said. "It worked."
His collaborators at the Paris Observatory presented their paper, "NEOSHIELD: Finding Safe Harbors in Asteroid Deflection Missions," this past spring at the 2015 Planetary Defense Conference in Frascati, Italy.
Although scientists do not expect any sizeable asteroid to collide with Earth in the next 150 years or so, Conway said it's "100 percent likely" to happen at some time, and that Earth is hit all the time by meteors, crashing mostly into the oceans. Some invaders have caused extensive damage, including one that flattened trees for a hundred miles around in Siberia in 1908, and one 65 million years ago that caused the extinction of the dinosaurs.
"A mission like AIDA will be quite inexpensive," Conway maintains. "It's probably worth it to try it out to know that we could do it if there was ever a need to in the future."
Asteroids that are worrisome measure 50 meters to a few kilometers in diameter, and the deflection theories could have an impact on them, Conway believes. On the other hand, there's little today's technology could do about the most rare invaders, those reaching 5 or more kilometers across.
Just ask the dinosaurs.