Pentagon officials visit new Center for Hypersonics Research and Entry Systems Studies at U of I
This past week, government officials from the Office of the Under Secretary of Defense, Research and Engineering at the Pentagon made an official visit to the new
Center for Hypersonics and Entry Systems Studies
at the University of Illinois Grainger College of Engineering in Urbana-Champaign.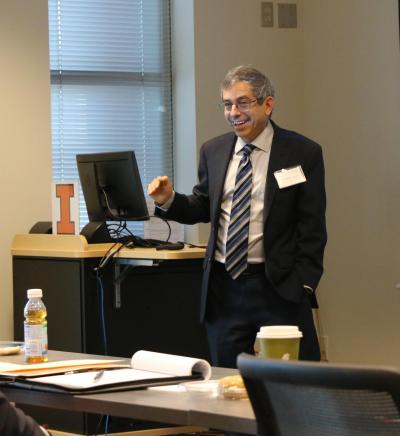 Director of Defense Research and Engineering for Modernization Mark Lewis, and Acting Director, Aerospace Technologies and Special Advisor to the Assistant Director, Hypersonics, Gillian Bussey, emphasized the need for university engagement to develop the workforce and advanced technologies for supporting current and future hypersonics programs. Lewis was accompanied by OUSDRE staff and program managers who support the nation's hypersonics program from the Pentagon and across the Department of Defense.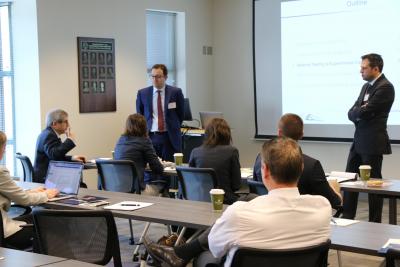 This visit marks the official launch of CHESS, headquartered in the Department of Aerospace Engineering at U of I. Associate Professor
Marco Panesi
serves as CHESS director. Addressing the OUSDRE team, he provided an overview of the center and the hypersonics research enterprise at Illinois. Also leading discussions were aerospace engineering faculty Assistant Professor
Francesco Panerai
and Associate Professor
Daniel Bodony
, as well as Assistant Professor
Kelly Stephani
and Professor
Tonghun Lee
, both in the Department of Mechanical Science and Engineering. Aerospace Engineering Professor and Interim Department Head
Gregory Elliott,
Vice Chancellor
Susan Martinis
, and Professor of Mechanical Science and Engineering and Associate Dean for Research
Harley Johnson
were also on hand to facilitate the discussions with OUSDRE.
Panesi emphasized CHESS as a national resource for hypersonics, touting the large number of faculty at Illinois who are leading experts in this field. In hypersonics research alone, CHESS faculty have been honored collectively with five Young Investigator Program awards from DoD, two Early Career Faculty awards from NASA, and two Presidential Early Career Awards for Scientists and Engineers from NASA/DoD. Elliott also underscored the rapidly growing number of graduate students who are engaged in hypersonics research and are eager to enter the field.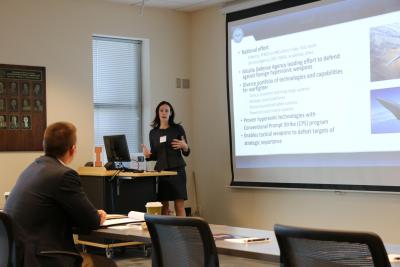 Grainger College of Engineering Dean
Rashid Bashir
also provided support and expressed commitment from the college for this new center. "We were delighted to host Mark Lewis and the delegation from OUSDRE as we stand up CHESS in The Grainger College of Engineering," stated Bashir. "Our world class faculty are leaders in hypersonics, and are ready to collaborate with the Department of Defense and partners to address the grand challenges in this very important area for our nation."
Executive Associate Dean and Bliss Professor of Engineering Philippe Geubelle said, "Hypersonics has been identified as a key area of research by The Grainger College of Engineering. We have assembled over the years a very strong research team with expertise in many aspects of experimental and computational hypersonics, ranging from flow physics and propulsion to materials science and embedded sensors. We are committed to make CHESS this country's foremost academic research center in hypersonics."
Panesi said, "CHESS represents a remarkable team of internationally renowned faculty, students, and research staff whose vision is to create revolutionary technologies for thermal protection system characterization, design, and integration that enables hypersonic flight. This makes CHESS uniquely positioned to take research in this field to the next level. We are very excited about the incredible work that is already being done here, and with an infusion of talented young faculty and the new facility underway, this will allow us to do even more."