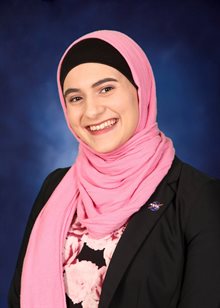 Salam Mulhem, from Oak Lawn, Illinois, is a senior in aerospace engineering. This summer she will be at SpaceX as a Falcon 9 structures intern. She was featured in an article in The Daily Illini this past fall.
What three words would you use to describe yourself?
Adventurous. Easy-going. Patient.
Why did you choose to attend the University of Illinois?
As an in-state, top-ranked engineering school, coming to the University of Illinois to study aerospace engineering was an easy choice.
In what extracurricular group do you participate, what's your role, and a memorable experience you've had with the group?
I am the team president for Formula SAE Illini Motorsports. I'll never forget hearing the car roar to life for the first time during the 2019-2020 season. We stayed up all night working hard to assemble the vehicle, making lots of memories along the way. Hours of planning, design, and manufacture led to that exact moment, and it was incredible to share it with the team that became family along the way.
Describe a challenge you have faced in college.
Often, the biggest thing I have to face is myself – my nerves, fears, and consciousness. However, I ensure that I am always pushing my comfort zone and try to take on at least one new experience every year. I have a personal rule: try to go after the things that scare you the most. I always find that those are the experiences that teach me the most.
What advice do you have for high school students who plan to study aerospace engineering in college?
Always keep your passion for this field in your back pocket. Think about your "why" and reaffirm for yourself - why is it that you work hard, and what motivates you to achieve great things? On the days that school gets tough and you're feeling run down, sometimes the only thing that will keep you going is your "why." Always remind yourself of who you are, what you've accomplished, and what you want for your future, because you have the power to shape your life.
What do you hope to do after you graduate?
After graduating, I hope to work in the space industry, with an interest in human space exploration.