3D printed high-performance green propellant
When AE alumnus Stephen Whitmore heard some old propulsion test cells at Dulles Air Force Base were being decommissioned, he immediately seized the opportunity to get them to use at Utah State University.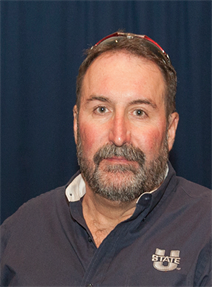 "We were able to get some funding from the state and a bunch of semi-trucks. Over the course of one summer, we hauled that test cell to campus and installed it. It can test propulsion up to 4,000 pounds," said Whitmore, who was a non-academic professional at NASA for 28 years before taking a teaching job at Utah State. He received a B.S. from the University of Illinois Urbana-Champaign in 1980, then went on to earn an M.S. at the University of California Los Angeles in 1983 and a Ph.D. in 1989.
With the test cell he salvaged in 2007, Whitmore founded a new Propulsion Research Laboratory at USU and has since put it to good use developing and testing "green" propulsion from 3D printing technologies.
"Acrylonitrile butadiene styrene, ABS, is a very stable material and takes a lot to get it to burn," Whitmore said. "In the 3D printing process, even though it looks like a solid piece, it is actually made up of tiny layers with microfibers. In between those tiny fibers or hairs, there is a lot of open space and a path for electrical arcs to occur.
"We discovered that it didn't make a very good pulse plasma thruster, but when you hit it with a charge, rather than being an open circuit, the whole thing lit up with little sparkles everywhere inside."
Whitmore's propulsion lab engineered an ignition system that takes advantage of the surface-arc-driven phenomenon. The power-efficient USU-system can be started and restarted with a high degree of reliability, and various ground-test units with thrust levels varying from 4.5 N to 900 N have been developed and tested.
In early 2018, a flight experiment integrating two prototypes of this thruster system was launched aboard a two-stage Terrier-Improved Malemute sounding rocket from the NASA Wallops Flight Facility. The launch achieved apogee of 172 km, allowing more than six minutes in a true space environment above the Von- Karman line.
"That test marked the first time plume contamination measurements have been performed on a hybrid rocket system," Whitmore said. "The flight system designed to burn at equivalence rations below one, burned extremely clean."
Whitmore said this new fuel has better performance that some currently used in-space propellants and it is inherently safe. As soon as it is exposed to oxygen, it stops.
"It has the ability to take what would otherwise be a completely inert material and use it when needed for rocket fuel. You can work in a shirt sleeve environment with it," he said. "We call it HPGP- high performance green propellant. It's recyclable. One of the best materials that we use is a low-density polyethylene—basically we ground up garbage bags."
Whitmore said people want a mature product and this propellant isn't mature yet. But with the expanding interest in CubeSats and other small satellites, this new non-toxic fuel can be a game changer.
He also has a personal interest in developing it.
"I was involved in a contamination incident out at Edwards," Whitmore said. "Several of us were exposed to some propellant. It wasn't hydrazine but it was a type of hypergolic propellant that has a really bad vapor pressure. It boils at room temperature and it's extremely toxic. I got contaminated with it. And I had a form of anaphylaxis. I broke out in hives all over my body and missed three months of work. Because of that allergic reaction, I couldn't be around chemicals for a couple of years. So, it's always is the back of my mind that there's got to be a better way."
As an undergrad at UIUC, Whitmore was in a co-op program. He worked at Johnson Space Flight Center in Houston and at the flight test center at NASA's Armstrong center and was offered a job when he graduated.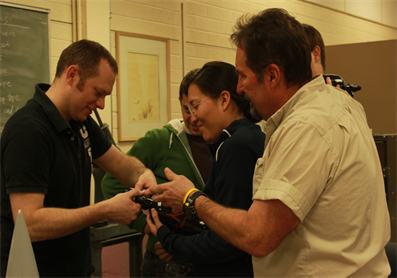 "I went through the naval flight school as a civilian and fly some neat airplanes," he said. "I leveraged that experience to get interviews to be an astronaut and was a finalist twice in the late '90s. But unlike Mike Hopkins, I didn't get picked."
Whitmore said, one important thing he learned along the way is that he didn't like the politics that can accompany management jobs in government.
"I was intellectually capable of it, but it was it just wasn't what I really wanted to do," he said. "I prefer being the person that actually makes things happen—not the person who has to argue about procurements."
After the Columbia accident, Whitmore was on the Columbia Accident Investigation Board at NASA headquarters in Washington, D.C. for two years that proved the foam was the source of the problem. "They brought me in through the National Engineering Safety Center as one of the experts in the aero sciences," he said.
"That changed the trajectory for human spaceflight for a time," he said. "They offered early retirement buyouts and because I'd been a co-op, I was 48 years old with 26 years of experience, so I took it feeling that now would be a good time to jump back to academia."
Whitmore said when teaching job opened up at Utah State, he knew it would be a good fit.
"I'd become a kind of an avid skier over the years and there are 11 world-class ski resorts within one-hour drive from my condo in Park City and another one went up that was just a four-minute walk."