Special delivery brings CubeSat satellite one step closer to space
Under
In early July, undergraduate students Rick Eason and Logan Power were privileged to hand-deliver a CubeSat satellite to NASA's launch service provider, Nanoracks, in Houston, where they participated in its installation in the orbital deployer mechanism. The Cool Annealing Payload Satellite, or CAPSat, will launch in August on a SpaceX Dragon cargo ship to the International Space Station. From there, it will be loaded onto the end of a robotic arm and deployed from its transport canister in October.
Both Eason and Power are electrical engineering undergraduate students at the University of Illinois Urbana-Champaign. For Eason, who plans to attend graduate school in aerospace engineering at UIUC after graduating, the delivery marked an important step in a project he's been working on since he first came to Illinois.
"I got involved with the Laboratory for Advanced Space Systems at Illinois as a freshman, working on communications as well as integration and testing," Eason said. "I was brought onto the CAPSat team almost two years ago. It's been my job to be CAPSat's integration lead. I was in charge of getting all of the hardware and software ready for flight." Power has also played a key role working with the principal investigator to get the instrument payload calibrated and tested for flight.
Michael Lembeck, who is an aerospace engineering faculty member and director of LASSI said, "Communications with the satellite will be handled locally through LASSI's Urbana ground station and will inaugurate the use of the new Steven R. Nagel Mission Operations Center in Talbot Laboratory at UIUC."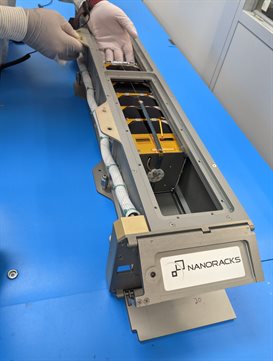 At roughly 4 inches square by 12 inches long, CAPSat will perform quantum annealing experiments for Professor Paul Kwiat in UIUC's physics department and director of the Illinois Quantum Information Science and Technology Center.
"Ultra-sensitive photodiodes in the experiment can be damaged by cosmic radiation while orbiting the Earth, leading to greatly enhanced detector noise, so they can no longer reliably detect single photons," Kwiat said. "In CAPSat we're trying to anneal the damaged detector in flight, using a bright laser to heat it.
"After it cools back down, the radiation damage should be healed, leading to much less noise," Kwiat said. "CAPSat will demonstrate the viability of performing quantum operations in small satellite packages. This approach mitigates the need for heavy shielding and opens the door for quantum communications to take place on small CubeSats."
According to Eason, CAPSat has had its share of challenges. "But, the team has worked incredibly hard and we were able to get the spacecraft to Houston in time for an August launch. It's an exciting time for all of us. To see our work come to fruition is really a wonderful experience. I feel lucky to work with such a talented and capable team."