First aerospace MEng graduate describes his experience
Michael Paradise received his B.S. from the University of Illinois Urbana Champaign in 2020. In 2021, he became the first graduate of the Master of Engineering in Aerospace Systems Engineering. Here's a Q & A in which he shared some thoughts about the program.
What went into your decision to begin working on an MEng?
During my four years as an undergrad, I never quite knew what my specialty was. As an engineer, I was good at everything, just not great at anything. And going into my last year in senior design, we do a big project. I learned a lot of systems engineering principles and how to apply those principles to that project. I realized that this type of engineering matched my skill set very well. So, when I heard about this program, I realized that not only could I get another degree in the industry I love, which is aerospace, but I could also get it in the field that I now realized I was good at.
What made you choose an MEng rather than an MS?
I knew from the get-go that I wanted to go into industry. And I realized that within an MEng program, I would get a lot more practical experience with the capstone project, and other projects that I would be doing compared to an MS, which is more research focused. Both programs are great for getting a master's degree, but for what I wanted to do, an MEng was better suited for what I wanted to do.
What course, would you say you gained the most from and in what ways?
Two classes, 542 and 543, are the main systems engineering courses in the aerospace systems engineering program. Those two classes I learned in more depth about the principles of systems engineering, but also how to apply them to the aerospace industry. And then, within those two classes, we had several projects where we had to apply those principles to an actual system that we were trying to develop. It was a good experience in how to start developing something, whether it's an aircraft or a spacecraft.
Those two core classes were taught by Professor Merret, who came to the university having worked as a preliminary design/systems engineer for Gulfstream, so he has a tremendous amount of practical and industry knowledge. He not only goes over the material, but he ties in a lot of his knowledge and gave me a lot of insight into the different aspects of systems engineering.
What elective did you choose to personalize your program?
I took an advanced risk analysis class as one of my elective requirements. The reason why is because in systems engineering, risk and risk management are very big components, so understanding how risk enters a project and how to quantify it, how to mitigate it, how to manage it, is very important.
I also took a special projects course about systems engineering. Similar to the 542 class, which is the core curriculum, this class taught the principles of systems engineering and how to apply them, but from a general standpoint. Instead of aerospace systems applications, I learned principles of systems engineering, and the processes in general systems. I took the risk analysis and special projects courses concurrently and I found that they complemented each other. I was learning similar things, but how to apply them differently.
Were you in person for some of the classes or were they all online only?
My only in-person classes were the 542 and 543 sequence. All my other classes were online and luckily, most of them were synchronous Zooms.
Why did you prefer that to asynchronous?
It forced me to stay on top of the work by going to lecture. In my asynchronous classes, it was easy to put it off until the next week. Knowing I had to attend a live zoom made me wake up, go to class, take my notes, and then not have to worry about it getting behind in a class. It helped me personally.
Can you talk in general terms about your capstone project?
Yeah, I ended up working with a major aerospace company, where I was doing some developmental work and exploration work for some ideas that they were considering.
The coolest—and scariest—part was that I got an initial proposal from the company, and that was it: no guidelines. It wound up being one of the most practical experiences I've ever had. I think biggest thing I learned from it was, you're not going to be able to solve everything. As an engineer, you want to be able to figure out every problem. But with a project of this scale and this complex, you can't solve it all by yourself. You don't know everything. So, one of the biggest takeaways from this project was how to how to start somewhere, keep going, and work hard, even if there's a chance that you're not going to actually succeed at solving the problem. Because these problems are extremely complex and you can't do it by yourself.
What were some of the challenges you faced?
I'd say the biggest challenge that I faced throughout this program was, actually the capstone project, because I wanted to invest almost all my time into it. That was hard to do because of the other classes that I had that semester. In fact, for anyone wanting to get an MEng, I would highly recommend, if you're able to, to do the capstone project alone in a third semester. That way, you can put all of your time into and get a good product out of it. I found myself wanting to work on the project, but I had two other classes that I had to keep up with and make sure did well in. And so that was that was my biggest personal struggle. I ended up figuring it out in the end, but it would have been a lot easier if I could have spaced it out more.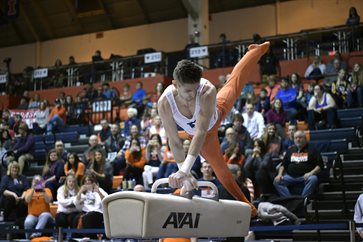 How have you managed your intense gymnastics training schedule while in graduate school?
I started doing gymnastics when I was two and competitive gymnastics when I was five. So I'm used to managing my time between school and practice and gymnastics. And in grad school, time management is really important—like starting as early as possible on the assignments, because I know that I'm not going to have extra time later to get it done.
Plus, going into the gym and training was such a huge mental break for me. I was able to get out of the confines of my project and my schoolwork and just do my thing in the gym, which is the sport I love. Honestly, I've always treated the gym as my outlet to get rid of stress.
What's next for you in gymnastics?
My senior year was my last year of eligibility as an NCAA gymnast. Unfortunately, due to the Covid-19 pandemic, we couldn't finish our season and the NCAA didn't grant my class an extra year of eligibility. So essentially, I was done with gymnastics. I knew, for me, personally though, I wasn't ready to call it quits. I decided to train and I ended up qualifying for the USA National Championships competition. So, competing in that was just kind of a glory run and a great way to go out.
What about academically, professionally?
I accepted a systems engineering position with Raytheon Missiles and Defense in Boston. Does that mean a Ph.D. is out of the question? No. If I do, I would have to get a master's degree with a thesis to get accepted into a Ph.D. program. That might be a possibility later in my career, because things could change. But for right now, I want to start out in industry and stay in industry and see how I can grow into the eventual career that I want to make for myself.
More information is available about the MEng program and other graduate degree programs in aerospace engineering.