Graduate student speaks the language of STEM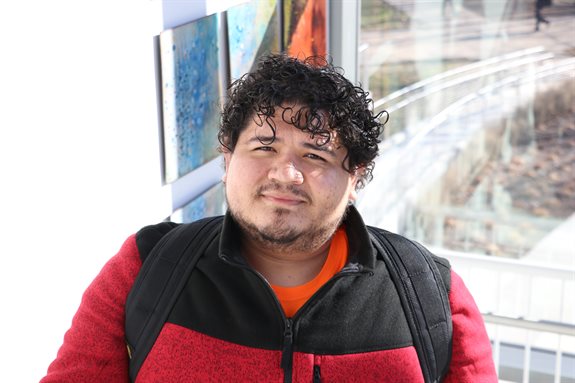 Not wanting their children to be field workers, Uriel Paez Reyes' parents brought him and his younger brother to California from Sinaloa, Mexico when he was 13 years old.
Reyes says learning English was his toughest challenge. "High school and my first years in college were really difficult. I wanted to drop out, but I didn't want my parents to be disappointed in me. They always encouraged me to go to college and believed I could do it. I didn't want to see their faces when I told them that couldn't do it."
Although Reyes struggled with learning a new language, he excelled in mathematics and chemistry. Reyes earned his B.S. from the University of California Merced last spring with a double major in chemistry and mechanical engineering.
This fall, Reyes received a Graduate Education for Minorities fellowship and began his master's degree in aerospace engineering at the University of Illinois Urbana-Champaign. The GEM program provides opportunities for American Indian/Native, African American/Black, or Hispanic American/Latino students who are U.S. citizens to earn a master's or doctoral degree through paid summer internships and financial assistance.
Reyes' undergrad degree was heavily focused on chemistry, but he had an interest in the mechanics of aircraft and rockets. That interest led him to join the American Institute of Aeronautics and Astronautics club at UC Merced during his junior year and eventually, become certified in high-power rocketry.
"Through the Tripoli Rocketry Association, I built and successfully launched a rocket with a certified high-power rocket motor. Watching my rocket launch was the most spectacular thing I had witnessed," he said. "Since then, I've had a passion for the study of combustion and propulsion."
Reyes said he'd like to pursue a combination of mechanical, aerospace, and chemistry in the study of propulsion or supersonics. Currently his biggest challenge is getting up to speed in aerospace.
"Moving into a new major is a challenge," he said. "I'm learning things I didn't know as an undergrad. Sometimes in a lecture, the professor will say, 'this is review,' but it's not a review for me. This is the first time I'm learning it. So, I have to study a little more on my own."
Reyes attributes his academic success to the difficulty of the courses he took as an undergrad at Merced.
"A class on heat transfer was one of the most difficult, but also one that I enjoyed the most," Reyes said. "Professor Abbas Ghassemi grabbed my interest because of his use of real-life problems as a basis for in-class and homework assignments. He showed me the potential impact and applications for heat transfer concepts. The complexity and difficulty of courses such as Aerodynamics, finite element analysis, and computational fluid dynamics prepared me for graduate level coursework."
Like most, the pandemic has also affected Reyes, but he is coping.
"I got infected with the virus last year and it was bad," he said. "I'm vaccinated, but because I have asthma, I just come to campus for classes right now and don't socialize much. I'm being careful."
Reyes hopes to work in industry after he completes his master's degree, then return for a doctorate. For now, he said he is concentrating on working hard, paying attention, and staying disciplined.