Negar Mehr receives NSF CAREER award for research on the impact of autonomous cars on society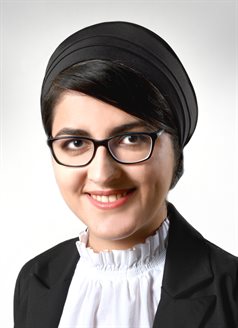 We already share roads and highways with motorcycles, bicycles, and trucks. As technology improves, we'll also be sharing the road with more and more driverless vehicles. Negar Mehr, assistant professor in the Department of Aerospace Engineering at the University of Illinois Urbana-Champaign was recently funded through the National Science Foundation Faculty Early Career Development Program to conduct research that looks at how traffic networks will be affected where roads are shared by human-driven and autonomous cars.
"To unlock the potentials of mixed-autonomy traffic, one of the key challenges is to account for how humans adapt and respond to autonomous cars' decisions such as routing decisions, lane choices, and speed as such interactions will in turn affect mobility, sustainability, equity, etc.," Mehr said.
The project will focus on travelers' routing decisions as one of the key factors that affects system-level mobility.
"We will develop design and control algorithms that induce efficient routing decisions by travelers," she said. "I plan to investigate the research challenges associated with controlling the core components of a mixed-autonomy network, namely, autonomous cars, humans, and the transportation infrastructure."
One research challenge will be to drive mixed-autonomy networks towards a socially preferable state by controlling autonomous cars' routing decisions, taking into account humans' routing decisions that are made in response to the routing decisions of autonomous cars.
"Another challenge is even if we can control autonomous cars, humans are unpredictable and can be a major source of inefficiency in traffic networks," Mehr said. "Humans can inadvertently act selfishly, disregarding the societal impact of their choices and contributing to congestion, for example. Consequently, to achieve societal benefits, we also need to influence humans' routing decisions. We'll look at human incentives and model how to achieve preferable behaviors."

Mehr said our current infrastructure directly affects travelers' routing decisions, too, but it wasn't designed with autonomous vehicles in mind. The research will revisit infrastructure planning to maximize mobility in mixed-autonomy networks.
"My long-term research goal is to create control algorithms that ensure socially aware control of autonomy. For example, control algorithms that take into account the social implications of the co-existence of humans and autonomous systems," Mehr said.
NSF CAREER proposals are written by individual early-career investigators and include research and education activities that are integrated, innovative, and ambitious.