Tell her she can't? Lexi English says, "Watch me."
In high school, Lexi English says she was a strong math and science student, but not particularly driven toward a career in a STEM field. It wasn't until people told her she couldn't, that she decided to be an aerospace engineer.
As a junior on the New Trier Township track and field team, English suffered a stage three concussion in a pole-vaulting accident.
"I completely passed out and was unresponsive for a while," she said. "I hit the occipital lobe in my brain badly, so some of my depth perception and peripheral vision was messed up. But I'm slowly gaining a lot of it back. That experience shaped me into the person I am today. I'm not grateful to have experienced it but I'm lucky to have overcome it."
Although others looked at her as academically less capable after the accident, English decided to prove the naysayers wrong.
"After the concussion my advisers said, 'you know Lexi, I don't think after this concussion you should be doing anything related to math or science' so I said, all right, I'm going to go into math and science. After I decided that, they said, 'please, please, don't be an engineer. That's way too hard.' I said, okay, I'll be an engineer. Then they said, 'Okay, just not a rocket scientist,' and of course that's what brought me to aerospace engineering.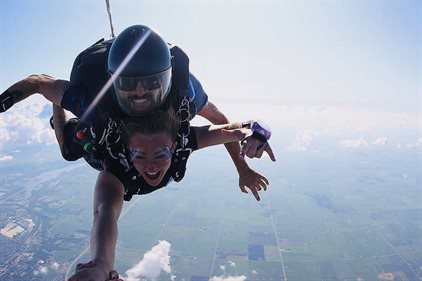 "I love challenges, English said. "When someone tells me I can't, I say, 'watch me.'"
English received her B.S. in aerospace engineering from the University of Illinois Urbana-Champaign in December and is currently working full time for Joby Aviation while applying to graduate schools.
Being a woman in a male-dominated field isn't always easy. English said there were times she didn't feel like she belonged and how she dealt with those feelings.
"In the aerospace department, I was one of the only women in a social sorority. And in the sorority, I was one of just a couple of students in engineering," she said. "That's one reason I joined Women in Aerospace. Having a dialogue in a community of others is what I really needed."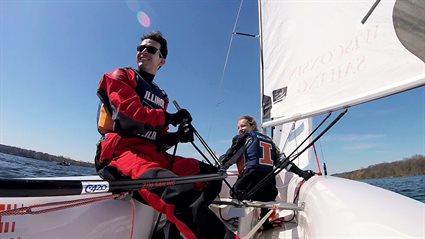 By the time English was a sophomore at Illinois, she was president of four organizations, competing most weekends as vice commodore on UIUC's sailing team, an engineering intern at a radio station, and admitted she was only sleeping about three hours a night.
Then Covid hit.
"I had to reevaluate how I was managing my time and what I prioritized. I had so many different responsibilities and roles. I cared about school, obviously, but I was just getting by with meh grades," she said. "In March 2020, I was given the opportunity to focus on academics and It made me a much stronger student."
English said a class on incompressible flows was her favorite and a big reason why she wants to go to grad school.
"Honestly, I think I liked that class because I loved the professor," she said. "Laura Villafane Roca is incredible. It was one of the first classes I've ever had that was taught be a female professor. I think I tried harder to understand the material because I saw her as a powerful woman and I want to be that, too."
As a senior, English received an Engineering Visionary Scholarship, presented in the spirit of the late Scott R. White's deep commitment to providing opportunities for undergraduate research.
After taking the incompressible flows class, English began working in Roca's research group.
"She encouraged me. I loved research before that, but to get that validation from her was awesome. Working with her and Francesco Panerai on their research on re-entry parachutes gave me good feel for the research environment and is what convinced me to apply to grad school.
"The application process has been a whirlwind," English said. "On paper and on their websites, all of the schools seem great. But when you talk to other graduate students and get their perspectives, you find out what it's really like there. What I'm learning is that at the end of the day, you want to be supported. And if there are no other women in a research group, that might be a red flag."
When asked about any lingering effects from the concussion, English said her peripheral vision isn't completely back to normal, she gets migraines, and she has had to learn new ways to take in information.
"It definitely took some trial and error and there were some really hard periods before I figured out what worked best for me, but it has given me the confidence that I can achieve what I set out to do as long as I work hard at it."