Roboticist named 2022 Outstanding Recent Alumnus
As a self-professed nonsleeper/overachiever, Steven Macenski, B.S. '17, finds additional hours in the day and makes good use of them. As one example, when he was a student at Buffalo Grove High School, he didn't take a lunch period for three years so he could do robotics and engineering coursework that didn't fit into his schedule, otherwise.
That work ethic continued as an undergraduate student in the Department of Aerospace Engineering at the University of Illinois Urbana-Champaign.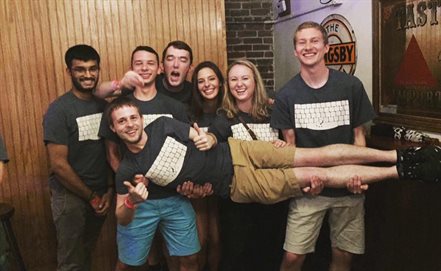 "I was all over the place. I was social director, then executive director of the Illinois Space Society, I co-founded a student organization called the Satellite Development Organization, I was active in AIAA, and I was the mechanical build chief for the Illinois Robotics in Space team," Macenski said. He also worked with Professor Tim Bretl for three of his four years doing robot manipulation and worked with a Ph.D. student on theoretical mechanics and optimal control.
Macenski is the Senior Technical Lead of Open-Source Group at Samsung Research, where he consults for robotics groups on fundamental research, applied research, and commercialization throughout Samsung's global subsidiaries. He is receiving the 2022 Aerospace Engineering Outstanding Recent Alumnus Award.
Getting a degree, anywhere, almost didn't happen.
"There was a time when I was debating even going to college," Macenski said. "In high school, I was in the battle bots program, which taught me a lot about CAD and CNC machining. I learned how to weld and how to physically build and design systems that you could interact with.
"I thought, maybe I'd be a CNC machinist because I really enjoyed working with the heavy equipment. Then I realized I enjoyed doing that because I got to see the thing I built being created, so, okay, I needed to go to engineering school."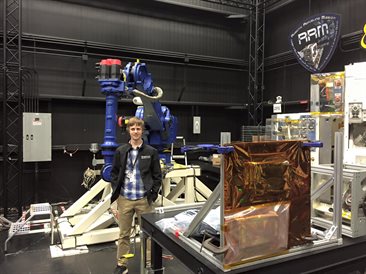 Macenski said he chose aerospace engineering because he wanted to use modern techniques and creative problem solving, which can be limited in large production systems.
"There's a lot of overlap between systems engineering in aerospace and systems design robotics," he said. "At the time, I didn't realize how those techniques would have an impact on my future work, but it's strange now how many times I go into machine learning libraries and realize this is exactly what Professor Chew taught me in AE 370. I think aerospace is probably the best major to go into if you're interested in robotics because it teaches you so much of the system skill that's missing from the software field."
Prior to his role at Samsung Research, Macenski was employee #7 and the lead robotics engineer at Simbe Robotics, where he developed popular open-source ROS extensions for SLAM and 3D perception for dynamic environments. He helped build Tally, the world's first fully autonomous robot for retail.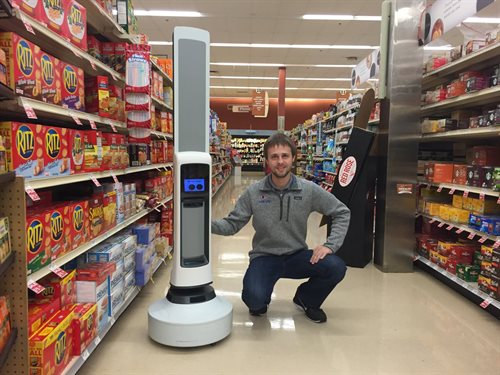 Tally uses computer vision to detect products on the store shelves and provide the retailer with detailed information. Macenski personally deployed about 20 Tally robots.
"In the early days of a start-up, you have to do whatever needs to be done, like spend two months in the back of a grocery store in Cleveland," he said. "What I learned from that time at the back of a grocery store is that nothing is there by chance. There is money transacted for everything. When you see that there's two spots of a brand of tissue on a shelf, you know a company is paying that grocery store chain X number of dollars a year to have those two facings on the shelf."
At Samsung Research, Macenski is responsible for formulating Samsung's strategic interests in robotics open-source technology and helps Samsung's teams make better use of openly available technology in a number of domains to accelerate their work. He leads a distributed engineering team on high-impact, high-visibility problems facing the commercialization of autonomous systems across many industries.
"I enjoy working on really big problems," Macenski said. "A couple of weeks after new software is pushed to users, I get emails from companies saying, 'oh my God, you fixed this giant problem we've been having.' It's great to know that I'm impacting so much in the field."
He said most of last year he worked on a set of kinematic feasible path planners to solve a problem for mobile robotics companies and knows of about two dozen companies that are already using it.
Macenski is also a community leader and has dedicated his professional career to democratizing robotics technologies to be used by anyone with an interest. He has fostered a large community of hundreds of robotics students, researchers, and developers to learn and work on projects collaboratively. A special focus of his is not only on the technology itself, but in its quality management, documentation, and accessibility to a broad range of people to encourage mass adoption. He mentors students and young professionals to advance their careers, the projects, and the industry simultaneously.
In both 2020 and 2021, Macenski was voted the Best ROS Developer by the robotics community and his projects have been either winners or finalists both years as well. He is a frequent interviewee in industry-specific podcasts such as Sense, Think, Act and The ROS Developers Podcast. He has also spoken at industry events such as RoboBusiness, TechCrunch, and various ROSCon's.
"In robotics, we run operations every hundred milliseconds so if it only works 99.5 percent of the time, that means it's going to not work at least three times a day and that's unacceptable," Macenski said. "We have to make sure things work all the time, every time."