Propulsion expert named 2022 Distinguished Alumnus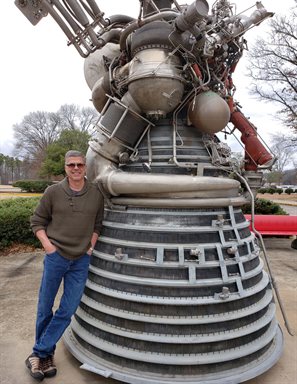 Daniel J. Dorney, B.S. '85, M.S. '87, has been NASA's Technical Fellow for Propulsion since 2018, and is located at the Marshall Space Flight Center. He has authored over 50 journal articles and more than 120 conference publications in the areas of fluid dynamics, aerodynamics, turbomachinery, liquid propulsion, and Mars missions. Dorney is the recipient of a 2022 Aerospace Engineering Distinguished Alumnus award.
"I am the steward of propulsion for the entire agency, so I'm involved with every type of propulsion at NASA—so we're talking air-breathing propulsion, hypersonic, spacecraft launch vehicles, advanced propulsion, everything," Dorney said.
Dorney considers himself lucky to have had such a wide variety of positions—mostly in propulsion, since joining NASA in 2000.
"I did a lot of in-the-trenches work," he said. "I was a team leader, branch chief, a deputy division chief, a division chief, the NASA Launch Vehicle Chief Engineer for the Commercial Crew Program, and my current job as the NASA Propulsion Technical Fellow. I've been all over NASA – mostly at Marshall but also at NASA Headquarters in Washington, D.C."
A typical day at work for Dorney presents a wide range of possibilities.
"I have a number of assessments that I lead for different programs," he said. "For example, I was at Purdue University recently for detonation tube testing and looking at the effects of 10,000 pounds per square inch pressure spikes hitting engine materials. I often analytical work to support the testing."
Dorney said tech fellows are also asked to serve on boards and panels based on their expertise. "There is going to be a Mars sample return mission that launches in 2028 and I'm on their standing review board to look at the propulsion aspects of the mission," he said.
In 2009 Dorney accepted a one-year detail at NASA Headquarters as the Technical Liaison for Shuttle Propulsion Elements in the Space Operations Mission Directorate, reporting to the Space Shuttle Program Chief of Staff. This detail included following the technical work and processing of the Space Shuttle Main Engines, the solid rocket boosters and the external tank.
Upon his return to Marshall, he was named Deputy Chief of the Structural Design and Analysis Division, assisting in supervising division activities, including technical, financial, and schedule-related efforts.
He served five years as the Launch Vehicle Chief Engineer for the Commercial Crew Program.
"I had to be familiar with every system on the launch vehicle," Dorney said. "That year was like being tossed into the deep end with no choice but to swim. I didn't have great expertise in every system on a launch vehicle, but I knew people who did have expertise in those areas and I knew I could consult with them."
Dorney said he's been fortunate throughout his career to work on interesting projects.
"All of my bosses have taken a real interest in having me do very different types of work," he said. "For example, while working on the and the Commercial Crew Program, I had the opportunity to work closely with several astronauts. That was unbelievably cool."
After the Columbia accident, Dorney worked on the investigation. He said, although the accident wasn't a propulsion issue, his background in fluid dynamics was helpful.
"My last two jobs have definitely been the coolest," he said. "I was the NASA Commercial Crew Program Launch Vehicle Chief Engineer for the United Launch Alliance Atlas V and the SpaceX Falcon 9. I got to sit console on a number of missions leading up to and including our first demo flight with SpaceX, which was awesome."
Prior to his 20-plus career with NASA, Dorney worked in private industry at Pratt and Whitney and the United Technologies Research Center. During that time, he completed his doctorate in aerospace engineering from the Pennsylvania State University. He taught at Western Michigan University and Kettering University, before gaining tenure at Virginia Commonwealth University.
Why so many moves early in his career?
"Simple. My wife Suzanne has a Ph.D. in computer science. Some of the places we moved worked out well for me, but not for her or great for her and not optimal for me," Dorney said. "In 2000, NASA needed someone who understood computer graphics at a very detailed level and they needed somebody who understood turbo machinery. With both of us working for NASA, it has been wonderful."