Young AE undergrad team takes second in complex NASA competition
University teams from across the United States presented their space mission designs at NASA's annual Revolutionary Aerospace Systems Concepts – Academic Linkage competition, held in June at the Kennedy Space Center in Cocoa Beach, Florida. This year's RASC-AL team from the University of Illinois Urbana-Champaign took second place.
"The Illinois team shared the podium with an all-varsity MIT team taking first place and in third place, the team from the University of Puerto Rico, Mayagüez Campus, who are the reigning champions for the past two years," said the team's faculty co-adviser Michael Lembeck who along with faculty co-adviser Zach Putnam and graduate student adviser Linyi "Tiger" Hou supported the team on the run-up to the competition.
From the various competition theme options, the UIUC students chose to tackle developing an architecture for mining Mars water from an underground reserve, processing the water into propellant ready to use for future systems on the Martian surface. The specifics of the challenge included the production and storage of at least 50 metric tons of propellant for future Mars systems. The architecture is packaged into units of less than 45 metric tons and 300 cubic meters. The propellant production system must operate for at least five years without human intervention.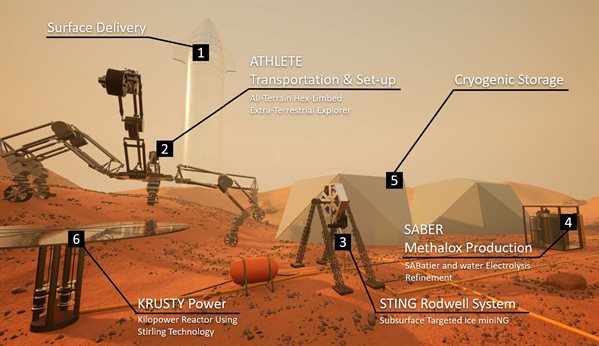 The resulting concepts for their Mars Ice Thermal Harvesting Rig and In-Situ Resource Utilization Laboratory included all stages of a functioning system on Mars: accessing the subsurface ice reserve, mining the ice, using it to produce fuel and oxidizer, and liquefying and storing those propellants long-term on the surface.
"Our storage tank design represented a huge challenge from the get-go," said team lead Alec Auster, a junior in aerospace engineering. "One of our most pivotal trades was whether to use rigid body tanks or inflatable tanks to store our propellant. Rigid tanks are reliable and have a high technology readiness level, but they take up unwieldy amounts of space, and are very heavy. Inflatable tanks are lightweight and small, but not as mature as rigid tank designs. We ended up choosing inflatables, knowing it would be a challenge to design them from the ground-up, but we did it. The storage team spent countless hours, iterations, and effort leading up to the final design. We believe the end result is truly revolutionary."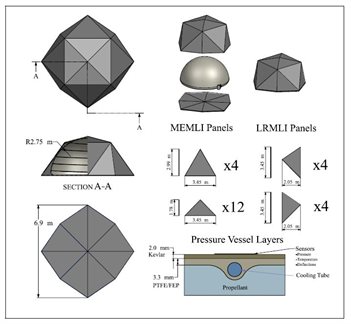 After the team presented, the judges said they were particularly intrigued by the innovative inflatable tanks and asked the team follow-up questions about the reliability of the storage containers and how pressure changes might affect them. One judge also commented that the video animation the team showed in their presentation, was one of the better videos they'd ever seen.
All of the presenters are majoring in aerospace engineering. In addition to Alec Auster, presenters included: first-year student Shikhar Kesarwani, who led the propellant production subteam; junior, Komol Patel, served as propellant storage team member; first-year student Riya Shah, was the propellant storage and transportation subteam lead; first-year student Ana Bojinov, was the water mining subteam lead; sophomore, Madeline Odeen, was the prototyping and experiment subteam lead; and first-year student, Galen Sieck, was the integration and support systems subteam lead.
Auster said a significant technical challenge the team had to overcome was understanding, debugging, and applying an old thermal model of a Rodriguez well written in FORTRAN by the U.S Army Corps of Engineers Cold Regions Research and Engineering Laboratory.

"Rodriguez wells, or Rodwells, are a type of water well used in Polar Regions on Earth," Auster said. "It operates on the simple concept of circulating hot water into and out of a glacier to continuously melt water and pump it to the surface for use. For us, this meant using a Rodwell on Mars to pump up water as a feedstock to create propellant. With help from Dr. Lembeck, and industry partners at Aerospace Corporation, we were able to not only use this code, but translate it into the more modern C language for easier use. We also worked with Honeybee Robotics, who've developed their own thermal model of a Rodwell, to evaluate the priming phase of our Rodwell with an electric heater."
The team was officially partnered with Honeybee Robotics for the competition, and worked directly with Joey Palmowski, the lead mechanical engineer of Honeybee's Redwater architecture. They also received technical support from Jeff Lasater at industry oil drilling partner Kinetic Upstream in Houston.
For more details and visuals, read the full technical report.
Watch the team's presentation at NASA's Kennedy Space Center that took place on June 22. The first and second place winners were invited and awarded travel stipends to present again live in Las Vegas in October at AIAA's ASCEND conference.