Two alumni share team award for major milestone in the history of flight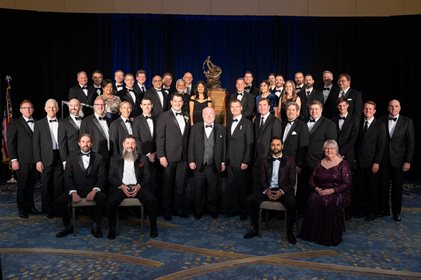 NASA's Jet Propulsion Laboratory Ingenuity Mars Helicopter team was recently named the recipient of the 2021 Robert J. Collier Trophy for "the first powered, controlled flight of an aircraft on another planet, thereby opening the skies of Mars and other worlds for future scientific discovery and exploration." Two Grainger College of Engineering alumni are leaders on that team.
Susan Althoff Gorton, B.S. '84 in aerospace engineering is the project manager for NASA's Revolutionary Vertical Lift Technology project, which has researchers across the country, working at NASA Ames, Langley, Glenn and Armstrong. She said as the Jet Propulsion Laboratory was developing the idea for a helicopter that could act as a scout or partner to Mars rovers, and later humans, they contacted her to discuss some technical issues with helicopter performance in the harsh environment and conditions on Mars.
"But the true star of the show is MiMi Aung, who is also a UIUC grad," Gorton said. "She was the driving force and lead project manager for Ingenuity. She's incredible," Gorton said.
After initially consulting with Aung, who earned her B.S. in 1988 and an M.S. in 1990 in electrical and computer engineering at Illinois, and Chief Engineer Bob Balaram, Gorton put together an initial small expert team to help the JPL Mars Helicopter team. The team's efforts would focus in the areas of: calculating helicopter performance and power required on Mars; identifying the flight control system that would be needed to control the vehicle autonomously; calculating the impact of the solar panel shape change on the vehicle performance; and providing estimates of test chamber effects on the Ingenuity engineering development testing.
"We worked in the early stages of the project, during the engineering development from about 2015 to 2018, then helped as needed in 2019 and 2020 as JPL took the configuration through full space-flight hardware qualification. The aeromechanics team from RVLT helped define the vehicle and demonstrate that the idea would work; that effort resulted in NASA deciding to proceed with allowing Ingenuity to be part of the Mars 2020 Perseverance rover."
Ingenuity's first flight was on April 19, 2021. Its 29th flight took place on June 11, 2022.
Since 1911, the National Aeronautic Association has awarded the Collier Trophy is for "the greatest achievement in aeronautics or astronautics in America, with respect to improving the performance, efficiency, and safety of air or space vehicles, the value of which has been thoroughly demonstrated by actual use during the preceding year." Its recipients represent a timeline of air and space achievements.