AE undergrad Noor Ansari recognized for building student/faculty cooperation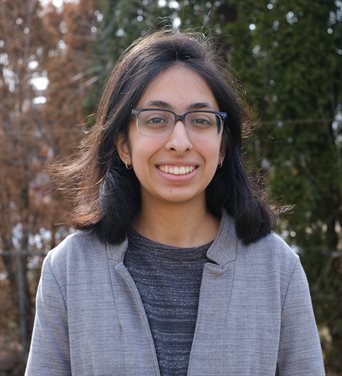 Aerospace engineering undergraduate student Noor Ansari is the 2022 recipient of the Stanley H. Pierce Award from The Grainger College of Engineering at the University of Illinois Urbana-Champaign. It's given each year to an undergrad who has "done the most to develop empathetic student-faculty cooperation."
One of Ansari's nominators for the award was Negar Mehr, whose position as a new faculty member in AE began in the fall of 2020. This was a time when almost all on-campus activities had been suspended due to Covid-19 and, consequently, a time when those skilled at bringing people together were needed more than ever.
"Even during the pandemic, Noor was the champion for student-faculty relationship," Mehr said. "She reached out to me, and I got to know Noor through virtual meetings. Later, I got to know other women students in the department through the activities Noor organized and invited me to join."
Ansari was the social co-chair of the registered student organization Women in Aerospace. Mehr eventually became the faculty adviser for WIA and had continued contact with Ansari.
"Going beyond happy hours, Noor and WIA members organized a research meet-up for WIA students and faculty last year which I believe was a tremendous success," Mehr said.
At the event, faculty were invited to present an overview of the research in their lab, and undergraduate students who were interested in the research were connected to them.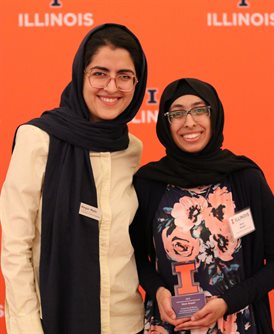 "I met and hired two women students to join my lab, and so far, it has been a pleasant experience getting to know them and work with them. This would have not been possible without Noor's efforts," Mehr said. "Since fall 2020, I have gotten to know Noor well, and she has always advocated for an empathetic relationship between our faculty and students."
In addition to her efforts with WIA, Ansari is a student member of the department's inaugural committee for diversity, equity, and inclusion. Andres Goza is a faculty member of the committee who also nominated Ansari for the award.
"Of the nearly 30 applications we received from prospective student members to serve on the diversity committee, Noor's application stood out for its passion and specificity," Goza said. "She spoke of barriers to belonging that she witnessed and conveyed a palpable passion to create a framework where these issues could be addressed.
"Noor's drive for these major improvements to our department culture is empathy," Goza said. "As a Muslim woman of color, Noor is a minority member of our community. What is so remarkable is that Noor embraces the fact that she is unique, and both serves as a role model for everyone to be their genuine selves and uses her uniqueness as a driver for profound change."
About the award's namesake: Stanley H. Pierce was an inspiring leader in the constant endeavor for better relations between faculty and students. During his years as associate dean of the College of Engineering, he gained the admiration and respect of the students because of his sincere concern for them as individuals and as a group. He was genuinely interested in their problems and achievements, both academic and personal, and established a rapport with them. In memory of this exemplary spirit, the Stanley H. Pierce Award was established by the late W. L. Everitt.
For students to qualify, they must be enrolled in an engineering curriculum at UIUC and must have a minimum GPA of 3.0.