Cultural Xchange about Iran, Nov. 11 at noon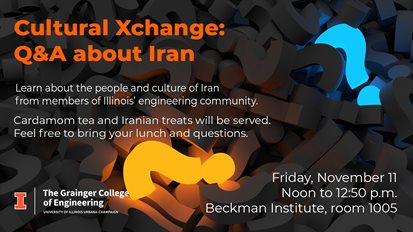 Earlier this semester, AE graduate student Taha Shafa was selected to serve on The Grainger College of Engineering Graduate Student Diversity Council. At the time he also agreed to help coordinate a special event about Iran—its people and culture and what it's like for him as an Iranian-American at the University of Illinois.
But on September 13, something happened that reshaped the event.
A 22-year-old Iranian college student, Mahsa Amini, was visiting her brother in Tehran. She was detained by Iran's morality police for allegedly violating the country's hijab law. Three days later, she was declared dead in a hospital. Amini's death triggered daily protests in the country on university campuses and in the streets. The protests have provoked a deadly state crackdown, with law enforcement and security forces killing scores of demonstrators and detaining hundreds of others.
Cultural Xchange: Q & A about Iran will take place this Friday, November 11 beginning at noon at the Beckman Institute, room 1005. Cardamom tea and Iranian treats will be served.
The event will include general information about Iran but focus on the reasons for the current protests and the affect the protests have had on UIUC students, faculty, and staff.
In addition to Shafa, panelists will include Maryam Ghadiri and Negar Mehr.
Ghadiri is a lecturer and researcher in the Department of Civil and Environmental Engineering. She earned her Ph.D. from the University of Southern California, her master's degree from California State University, Los Angeles, and a Bachelor of Science degree from K.N. Toosi University of Technology, Tehran.
Mehr is an assistant professor in the Department of Aerospace Engineering. She earned her Ph.D. from the University of California, Berkeley and her Bachelor of Science degree from the Sharif University of Technology.
The discussion will be moderated by Tess Saxton-Fox, assistant professor in the Department of Aerospace Engineering and chair the department's diversity committee.