Third time's the charm for Illinois Space Society student rocket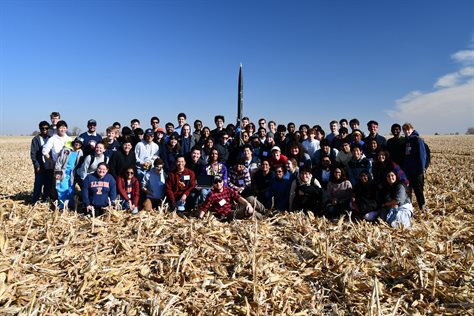 A rocket named Intrepid III might imply that it's the third in a series of successful rockets. But the truth is, Intrepid III was born out of the failed launches of Intrepid I and II. The "III" reflects the determination and resiliency of the students who overcame two devastating failures with one outstanding success.
"Intrepid I was unfortunate. Its failure was the fault of the motor manufacturer," said Harry Zhao, aerospace engineering senior at the University of Illinois Urbana-Champaign and technical director for the Illinois Space Society rocket, one of over 150 rockets that will compete at the June 2023 Intercollegiate Rocket Engineering Competition in New Mexico.
Zhao explained that the rocket burns a solid chuck of propellant. Its success is contingent upon it having a continuous grain, no bubbles, or voids. After the rocket exploded, the team recovered the debris and noticed very uneven burning.
"Some of the fuel burned all the way to the outer wall and some hadn't burned at all," Zhao said. People at the launch with a lot of experience in rocketry picked it up and confirmed that it failed because of voids in the solid propellant. "Two months later we met with the motor manufacturers who said Purdue's rocket had the same motor and failed the same way at the competition, so the company gave us a free replacement motor.
"Intrepid II suffered from fin failure," Zhao said. "It reached Mach 1.3, broke the sound barrier, then the fins sheared off. It was our first time trying this type of fin attachment and with the extreme forces the rocket experienced, it was clear we needed to go back to the drawing board."
Due to that failure, the design of Intrepid III was modified to include four fins and more reinforcement.
"To secure the fins, we doubled the layers of carbon fiber and increased the amount of epoxy," said Sebastian Macias, an AE senior and the team's project manager. "We also took the time to test the fins. We made a jig out of wood and put weight on it to simulate how much force the fins could withstand without breaking. We were able to simulate 250 pounds, which is 1.5 times the amount we'd see at the competition.
"We reran simulations and checked our numbers from last year to see if there was something we were missing," Macias said. "If we weren't confident something was attached properly, we'd go back and redo it. Because of how much testing and verification we did, we had confidence in how it was going to go."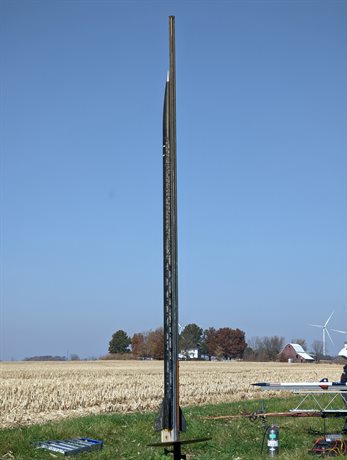 The rocket competition has target altitudes of either 10,000 or 30,000 feet. The October 2021 test launch reached 9,000 feet, so it's no surprise that the team chose to aim for the greater height.
"We were so close to 10,000, we might as well push ourselves to go to the 30, Macias said. "It's a barrier we really want to achieve. Intrepid III hit an altitude of 14,693 feet, breaking an ISS record."
He said there is a penalty for going over 30,000 because breaking that ceiling is unsafe for other air traffic. "But you want to be close to it, because it also shows how good your simulations are, and you get points for both."
Macias was the structure lead last year and Zhao was assistant director. Both said the organization's growth in numbers of students has been a wonderful challenge.
"As the technical project manager this year, managing a lot of people doing ambitious tasks has been a great experience for me, very humbling," Macias said. "Then, we had issues with the two rockets. I think of it as part of the engineering process and tend to forget about how it can affect morale. My personal projects could have a major failure and I have to come back from that. But it's more difficult with a large team of about 140 students. Building off of those explosions and coming back this year as the lead of the project has been unique. Every year, the new wave of folks that come in are even more ambitious and even more dedicated to getting that rocket up there. We did our best to make sure that everyone had a meaningful opportunity."
Zhao said the team has grown much faster than they anticipated or were prepared for.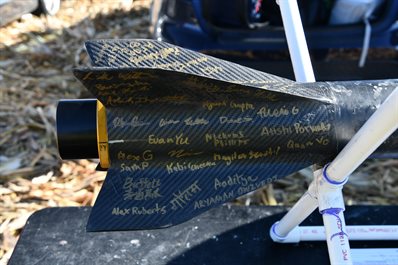 "It's been a big challenge, not just on boarding people. Of course, we want to make the best rocket. But a huge emphasis in ISS is that everything be conducive to learning. It's in the bylaws. We make sure that existing members help new students learn by including them in decisions and analysis.
"Another big challenge for me has been staffing all the technical leadership positions," Zhao said "There are about 50 technical leadership positions. We're averse to having unnecessary bureaucracy. We don't have those positions so people can put them on their resumes We have these positions because we're so huge and we're all full-time students, too, so each of us can only do so much."
In past years, AE faculty Zach Putnam, Tim Bretl, and Melkior Ornik have helped the team. This year, Jeff Baur was a composite manufacturing consultant. Three undergraduate students in Baur's lab have been particularly helpful: Joey Rosenblum, Thien Le, and Morgan Scott.
This summer, Intrepid III will compete against teams from all over the world, including: Brazil, Australia, Poland, Turkey, UK, Canada, New Zealand, Mexico, Malaysia, India, Greece, Thailand, Algeria, and Germany. All told, a rocket like Intrepid III costs the group about $6,000 to build. The majority of funding comes from NASA's Illinois Space Grant Consortium, UIUC's Student Organization Resource Fund, Engineering Council, and Engineering Design Council.
Illinois Space Society members pay just $20 in dues for the whole year. Zhao said at the beginning of the school year the account is low, because taking about 20 people to the competition over the summer can run into five figures. "The cash from the member dues is helpful for us at the beginning of the year to start buying parts for our teams.
"We like say that for just $80 for your entire undergraduate career, students get many, many times that as a return in worth of experience, to put on their resume, and talk about at internship and job interviews."