One Illinois alumni's success blends engineering and business with a pinch of risk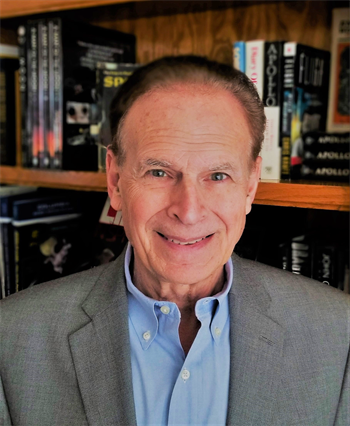 Listening to Michael Miller describe some of the choices he made during his long and successful career as an engineer, investor, and entrepreneur sounds like a choose-your-own-adventure book.
After doing aerospace engineering for six years, do you want to work on an MBA nights and weekends for five years or apply on a whim to the University of Chicago, get accepted, and finish in two years?
After getting your MBA, do you want to return to your safe job with a good company or join a risky start-up?
You can probably guess which adventures Miller chose. He earned his MBA at U of Chicago and the risky start-up became Orbital Sciences Corporation.
"We were the first commercialization agreement with NASA to develop a rocket stage for the shuttle," Miller said. "We raised $50 million on an R&D limited partnership—the largest R&D private partnership in 1984 and the first ever for space. We were early pioneers in what's happening now in the commercial space industry."
Miller said the five-guys-in-a-basement-with-a-big-idea experience at Orbital was the beginning of his passion for being an entrepreneur and one of the reasons he created the Michael W. Miller Aerospace Engineering Innovation Award. It is given each year to an AE student who has a big idea and a plan for how to accomplish it and has been one of the ways for Miller to encourage the same innovative spirit that led him to take a risk with Orbital.
He admits taking chances near the beginning of his career was easier than it would be for him today, 30-plus years later, and encourages college students to do the same early in their careers.
In 1990, Miller received the department's Outstanding Recent Alumni Award. He said when he came back to campus to accept the award, he met with faculty who shared some of their ideas with him. In 2003, he was selected for the Distinguished Alumni Award. Over the years, he has served on the alumni board which also brought him back to campus regularly.
"I began having more opportunities to engage with students," Miller said. "Over the years, some have sent me business plans and I've been able to give them some feedback, mentor, and guide them. During the pandemic, I participated in online panels with other alumni about entrepreneurship. Talking with students, hearing about their aspirations, and seeing how I can help—that's been meaningful for me."
He said because of his interest in space and in particular small satellites, he has collaborated with NASA's Illinois Space Grant Consortium at UIUC and more recently contributed his time and resources in support of the department by sponsoring the Systems Engineering Test Center for Small Satellites.
This year, Miller is receiving the Harry H. Hilton Dedicated Service Award. Miller said the award is special to him because he knew Hilton well.
"Harry was acting department head when I was an undergrad. I remember coming back to campus one time Harry sought me out and took me on a tour. He showed me where his first classroom was and how they had renovated Engineering Hall and found beautiful mosaics and took me inside the new Grainger Engineering Library. I always enjoyed talking with him, and he was always very gracious to me."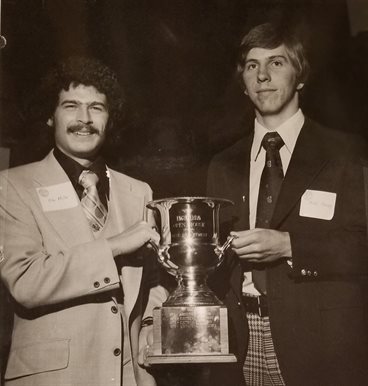 As an undergrad, Miller was chairman of the AIAA student chapter, served on the Council of Presidents and Engineering Council, and stayed on campus for summers as a research assistant "I had an office in the old Aero Lab B and got to play cards over the lunch hour with Professors Prussing, Krier, and Strehlow," he said. As seniors, he and Mike Bragg, who would later be on the faculty, won the Engineering Open House trophy for the best department. "Aero was a small department back then and I think it took everybody by surprise," he said.
Miller graduated from the University of Illinois Urbana-Champaign in 1976 with two Bachelor of Science degrees—electrical and aerospace engineering. It was a time when the space program had significantly slowed, but he found ways to showcase his abilities and landed his first job at McDonald Douglas doing launch vehicle design and analysis on the Delta rocket program.
When he realized he wouldn't move up very quickly at McDonald Douglas, he took a job at Hughes Aircraft in managing communications satellite development, where his talent was recognized and celebrated.
Then, after three years at Orbital working 90-hour work weeks, he got an offer he couldn't refuse. Rockwell International hired him to be their executive to manage space marketing and government affairs in their corporate office in Washington, DC.
"I managed their strategic defense, satellites, and was at the center of adopting and promoting GPS. I wrote the very first paper on the commercial use of GPS. I predicted that by the turn of the century, automobiles would be able to give you point by point directions. I predicted that you could buy handheld units for under $100. That was 1987."
While at Rockwell, he was faced with another tough offer.
"I was on an advisory panel for the Governor of Virginia," Miller said. "The governor wanted to promote Virginia as a place for space. He asked me to come to this group called Virginia's Center for Innovative Technology and help execute it. So I ran a space program. I was involved in space business incubators and technology development centers for a whole range of technologies."
From there, Miller was president and CEO of Arc Second, then managing director and venture partner for BV group, but in 1997, he founded Comspace Development and continues to serve there as managing director.
Miller said his engineering degrees combined with an MBA have been the perfect blend.
"For me, it's always about applying new technologies and new companies—either working for them or helping to develop them."
How does he determine if a new technology will be worth the investment?
"It's a complex formula," he said. "As a venture capitalist, I'm looking for something that for a given amount of money I can bring a product or service to market. So, you have to sniff that out. Time and money are costly. If you think an idea is going to cost $10 million to bring to market, and it winds up costing $20 million and takes two years rather than one; then it may work from an engineering point of view, but your business might still fail."
Miller advises young engineers to join AIAA, take courses, keep up with new technologies, and be willing to step out.
"When you're young and you've got talent and some experience, there is really no harm in taking a risk."