An interview with a graduate: Leela Herena, BS '23
Leela Herena is from Elgin, Illinois. She earned a Bachelor of Science degree in aerospace engineering in May 2023.
Why did you choose to study at UIUC?
The size of campus offers so many opportunities that you can't find anywhere else. I also love how collaborative the university is, unlike many other top engineering programs that are very competitive. I felt like the staff and faculty foster a great environment for learning and helping each other succeed.
Why aerospace engineering?
My first word was airplane. True story. Ask my dad. Seriously, though, my dad is an engineer, and he is one of my role models. He inspired me by supporting my exploration into science and engineering. We used to play a lot of strategy games growing up that I realized later was his fun way of teaching me about quick math, gaining an intuition for statistics, and learning to set up multiple plans depending on how the game unfolded.
When it came time to choose a major I knew it would be engineering and I chose aerospace because my favorite museums to go to were the air and space museums. I was so interested in how a person could build something so heavy that could still fly thousands of feet in the air.
Also, my mom raised me to be very cognizant of how my actions affect others and to be kind to others--to not only be a good engineer but also a good person.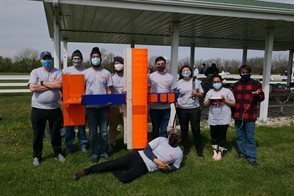 What course or professor helped you choose your specialty?
I took an undergraduate research class under Prof. Geubelle and fell in love with material research.
Professor Merret is my favorite professor. He helped build a lot of intuition in aircraft design, making me feel more comfortable going into it as a career.
What projects have you worked on that standout?
The research I did was so fun and it's so cool to say I did research that helped build the new composite 3D printer. I also ran failure analysis on a part from the B-2 to ensure the rad hardening was effective.
What is something you are particularly proud of?
I did a co-op with Collins aerospace and was published three times from the work I did.
Did you have any study abroad experiences?
I am doing the study abroad experience in Brazil right now and am really excited about that.
What extracurricular experience is memorable for you?
Giving tours of the campus has been so fun. I hope I inspire new students and get them excited about going to college despite it being a stressful time of life.
What will you be doing after graduation?
I'm going to work at Collins Aerospace in Rockford, Illinois on gearbox and turbine design.
How did you decide what to do after graduation?
I wanted to stay local for my family and I loved working at Collins as a co-op, so I was very excited to get the opportunity to do it again full time. I wanted to try my hand at design because I've already done research and manufacturing to round out my experience while I'm young and have the most flexibility.
Do you have other career goals?
I want to become an expert in something so niche in the industry that whenever someone asks a question, another person would immediately say they should talk to me.
What's on your bucket list of must-dos for the next 5 years?
I want to do a cross-country road trip going to the best amusement park in each state and ride every roller coaster.
What advice would you like to share with AE undergrads?
Don't be afraid to ask for help. It's not embarrassing and proves to professors that you really care about what you're learning. It's a great way to meet people, network, and leave lasting impressions. The people you are learning with now are the people who will help you get jobs or research opportunities later in life so build connections now!