An interview with a graduate: Varsha Krishnakumar, BS '23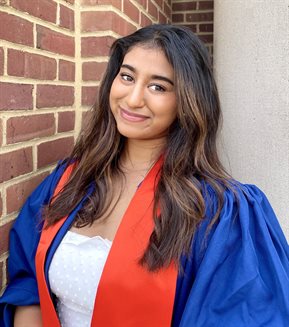 Varsha Krishnakumar is from Newbury Park, California. She just earned a Bachelor of Science degree in aerospace engineering from Illinois with a minor in computer science. She accepted a position as a guidance, navigation, and control engineer at Northrop Grumman but will also begin working on a master's degree in astronautical engineering at the University of Southern California.
Why aerospace engineering?
I chose to pursue a degree in aerospace engineering because it is a field that combines my strengths and interests in math, computer science, and physics. I have always been interested in the science behind space exploration, and I believe that aerospace engineering offers the opportunity to work on exciting and innovative projects that push the boundaries of what is currently possible.
As someone who is passionate about research, I wanted to work on projects that would make a significant impact on scientific discovery. Aerospace engineering offers the opportunity to work on projects that not only advance our understanding of the universe but also have practical applications in a wide range of industries.
Why did you choose to study at UIUC?
I chose to attend the University of Illinois at Urbana-Champaign because of its reputation as a top-tier research institution. I was particularly drawn to the College of Engineering, which is renowned for its innovative and diverse research projects across various fields. As someone who is passionate about research and development, I knew that UIUC would be the ideal place to develop my technical, scientific, and professional skills.
In addition to the breadth and depth of research opportunities available at UIUC, I was also impressed by the strong support system the university offers to its students. The Grainger College of Engineering provides excellent academic resources, including state-of-the-art facilities and equipment, ingenious faculty and mentors, and collaborative research programs that help students gain real-world experience in their fields.
What course/professor/other helped you choose your specialty?
During my undergraduate studies at Illinois, several courses and professors greatly influenced my decision to pursue my current specialty in aerospace engineering. AE 353: Aerospace Control Systems, taught by Professor Bretl, was a class that had a profound impact on me. The course was well-structured and offered students the opportunity to engage in design projects with plenty of creative freedom placed on the students. Through this course, I was able to explore the concept of control systems and develop a deep interest in this area. Professor Bretl's guidance and mentorship inspired me to pursue further research in this field.
In addition, CS 357: Numerical Methods and CS 446: Machine Learning were critical courses that helped me gain a deeper understanding of mathematical and computational techniques which I, in turn, was able to use in other aerospace engineering courses.
My involvement in orbital mechanics research with Professor Robyn Woollands also greatly shaped my undergraduate experience. Through this research experience, I was able to apply my knowledge in aerospace engineering and computer science to real-world problems and enhance my technical and analytical skills. Working with Professor Woollands and her team has been an enriching experience, and I am incredibly grateful for the opportunity to be involved in cutting-edge research.
Did you have any internships or study abroad experiences? Where? What did you do?
I had summer research internships in 2021 and 2022 in orbital mechanics and space systems under Professor Woollands. I worked on a variable-fidelity gravity force model for Mars by using satellite orbit data produced by Goddard NASA which includes the various normalized and unnormalized polynomial coefficients of Mars' gravity map. This model was used in a specialized and highly efficient numerical integrator to propagate perturbed orbits around a planetary body. I also worked on a couple of orbit determination and propagation methods that focus on tackling problems like space sustainability and error optimization.
What extracurricular experience stands out as memorable for you?
I have been involved in a registered student organization called Outdoor Adventure Club. I've always loved everything about the outdoors, and I wanted to do what I enjoy outside of work and courses. After an arduous junior year, we went to Lake Kinkaid in Illinois for a cliff-jumping trip, and it was honestly one of the best college experiences I have had. The trip was exhilarating and took a lot of stress out, but it more importantly gave me comfort to be around like-minded people who were in a similar situation as I was. If you are into the outdoors and adventuring, I highly recommend joining OAC's mailing list and signing up for trips that interest you!
What will you be doing after graduation?
I will be working full-time as a guidance, navigation, and control engineer at Northrop Grumman, while also attending the University of Southern California as a master's student in astronautical engineering.
How did you decide what to do after graduation?
Deciding what to do after graduation was a challenging process for me, as I had to weigh different options and consider my long-term goals. Initially, I leaned towards pursuing a doctorate in a similar field of research as my undergraduate research. However, during the process of applying to graduate schools, I realized that I had been limiting my perspective and hadn't explored other possibilities, such as pursuing a career in industry. To explore different paths, I decided to apply for both graduate programs and job positions related to guidance, navigation, and control engineering and mission control.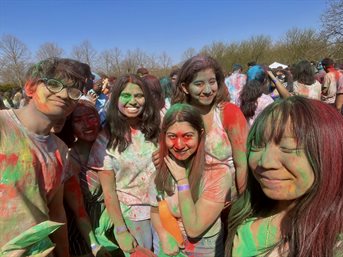 After receiving two offers, I carefully evaluated my options and ultimately chose Northrop Grumman.
During the interview process, my soon-to-be manager took the time to understand my situation and provided insights into the immensely innovative projects I would be involved in. This significantly influenced my decision and made me reconsider attending graduate school immediately after graduation. However, my strong interest in research and development persisted, and the great research initiatives and projects offered by the graduate schools I got into remained at the back of my mind.
Seeking guidance, I reached out to one of the aerospace undergraduate advisers, Audrey Cochran. Audrey was exceptionally helpful in discussing various factors such as financial benefits, interests, and location, enabling me to make a more informed decision.
In the end, I chose to join Northrop Grumman and pursue a master's degree at the University of Southern California. I felt that both the company and the school aligned well with my personal and professional aspirations. The work-life balance, the cultural fit, and the economic considerations played a significant role in my decision-making process.
Ultimately, the conversations with my future manager, as well as the guidance provided by Audrey Cochran, helped me navigate the difficult decision between industry and graduate school.
Where will you be located and what will you be doing?
I will be in Dulles, Virginia working on Northrop Grumman's Cygnus spacecraft as a GNC Engineer. I then plan to relocate/rotate to the company's El Segundo location to complete my master's at USC in person.
Do you have other career goals?
Yes! This is a fairly recent development, but I would love to work as a personal fitness trainer part-time a few years down the line. Getting involved in outdoor activities and weight-training has greatly enhanced and changed my life not just physically but mentally as well, and I would like to help other people do the same.
What's on your bucket list of must-dos for the next 5 years?
I would like to hopefully complete my training for attaining a private pilot license and possibly start my Ph.D. in controls or orbital mechanics software. I would also like to do some high-thrill activities like skydiving, wakeboarding, and bungee-jumping if I am able to catch some time for myself.
What advice would you like to share with AE undergrads?
My advice to AE undergrads is to embrace the fast-paced nature of college and seize every opportunity that comes your way. Throughout my own college experience, I realized that there were moments when fear or self-consciousness held me back from engaging in activities or pursuing projects that could have greatly enhanced my overall journey.
I encourage you to be bold, stand up for yourself, and actively represent your interests as much as possible before you graduate. For example, if you believe that you would be a great fit for a research group but hesitate to reach out to the principal investigator, remember that many other students have started in the same position as you, possessing similar skills and backgrounds. Taking the initiative to reach out can lead to remarkable opportunities. There is nothing to lose by reaching out, regardless of the outcome, and you will never regret having made the effort in the future. This also applies to applying for industry jobs or graduate schools.
So, my advice is to step out of your comfort zone, embrace new challenges, and proactively pursue the experiences and opportunities that align with your interests and aspirations. By doing so, you will maximize your college experience, grow both personally and professionally, and create a foundation for future success.