Unique collaboration brings West Point cadets to Beckman Institute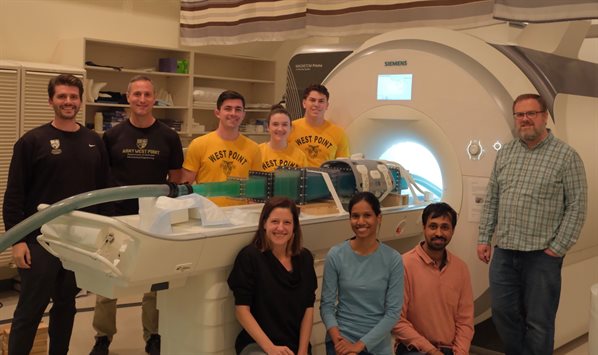 Laura Villafañe Roca, assistant professor in the Department of Aerospace Engineering at the University of Illinois Urbana-Champaign and a new Beckman Institute affiliate, developed a unique collaboration with Professor Andrew Banko at the United States Military Academy at West Point that produced its first engagement this year.
A group of West Point cadets together with their advisors Banko and Colonel Michael Benson, came to Illinois to conduct Magnetic Resonance Imaging experiments as part of their capstone design project. They hope this effort, supported through a cooperative agreement with the United States Military Academy and funded by the U.S. Defense Threat Reduction agency, repeats yearly as part of a long-term collaboration between researchers at UIUC and West Point.
The focus of the project was on measurements of natural ventilation physics and their sensitivity to wind direction. A generalized sports stadium was chosen as the geometry of interest for its significance in threat mitigation applications. More broadly, the results of this project are intended to help improve models of indoor-outdoor air exchange used in building design, air quality assessment, and emergency response. Prior measurements by West point capstone design team using Planar Laser Induced Fluorescence allowed them to study contaminant concentration dispersion outside the ventilated structure.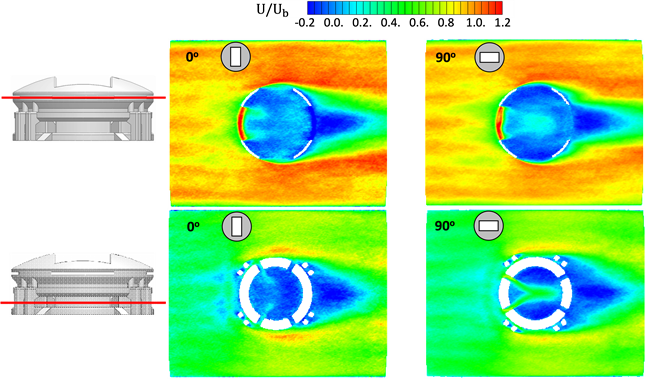 "The cadets wanted to learn how the three-dimensional flow moves within and around the structure to more completely understand the transport of potential contaminants," said Villafañe. "Classical measurement techniques like PLIF are not well suited to study complex 3D and internal flows. MRI, not requiring any optical or probe access, is an excellent candidate to cover this gap."
The team of cadets and researchers from West Point worked together with Brad Sutton, who is a professor of bioengineering at UIUC and Technical Director of the Biomedical Imaging Center at Beckman, graduate students from the aerospace department, and Villafañe for these unique experiments.
Instead of a wind tunnel, they used a water channel. In place of a human or animal, the MRI bed held the water channel with a scaled stadium model embedded in it. After one day of setting up the experiment and performing MRI scans, the team had detailed 3D data of the flow velocity outside and within the stadium for different wind directions. A feat that would be nearly impossible by other experimental means and is truly unique.
Villafañe routinely measures turbulent flows and particle dynamics in flows using laser-based diagnostics in dedicated facilities.
"Developing new measurement techniques, or as in this case, extending the field MRI applications to fluid mechanics in engineering and environmental settings, are exciting new challenges," Villafañe said. "We are just starting to scratch the surface of all we can achieve using MRI to study complex flow problems."
When asked about a challenge during the experiments Villafañe recalled an anecdote. They had planned for the many difficult challenges but missed that they needed more cooling power than anticipated to keep the water at constant temperature while being heated by circulation pumps. Where to keep lots of ice on hand? It was 5 p.m. the day before the experiments with the Engineering Open House in progress. Aaron Anderson, who is a researcher in the Biomedical Imaging Center, called Joshua Whitson, Beckman director of facilities. Minutes later an ice cream freezer showed up in the MRI suite. They call solving emergency problems like this one, "the Beckman Way."