Company culture important career criterion for Klingebiel
Karl R. Klingebiel, BS '04, is a 2019 Outstanding Recent Alumnus from the Department of Aerospace Engineering at the University of Illinois.
When he was an undergraduate student at U of I, Klingebiel enhanced his knowledge base in the co-op program. He spent one semester and three summers at NASA's Armstrong Flight Research Center on Edwards Air Force Base working in their research aerodynamics, operations, and propulsion branches.
"Although I didn't wind up working for NASA, it was an amazing experience, and helped me discover the direction I wanted to go in the industry," Klingebiel said.
The co-op extended his undergrad program at U of I by one year. One semester was at NASA. With the additional semester in his overall schedule, he had time to get a minor in computer science.
When Klingebiel graduated, he had a decision to make: to get a job or get a master's degree. He wound up taking an internship for the summer of 2004—ironically, at the company that has shaped his career.
"When I interviewed at AeroVironment for a full time job, I told them that I wanted to go to graduate school, but didn't want to miss the opportunity to work for them," Klingebiel said. "They recommended that I take an internship for the summer in Simi Valley, California working on small electric UAVs, then go to grad school in the fall."
After completing a master's degree at Penn State, he was back at AeroVironment for good, but not without at least thinking about getting a Ph.D.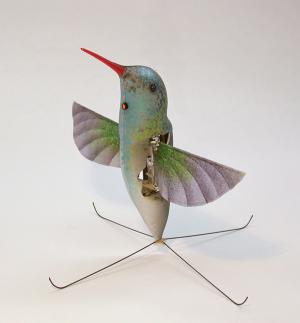 "I got about two months into a Ph.D. program when I got a job offer from AeroVironment to work on the Nano Air Vehicle Program. I was so excited about that opportunity, that I couldn't turn it down," he said.
What has kept him there for 12 years?
"There can be benefits to moving between companies and I think it's rare for someone in my generation to stay in the same place for 12 years," Klingebiel said. "But for me, it's about my overall happiness. I really enjoy the culture at this company. They have a hands-on, small-team environment. You get the chance to start on a project when it's just a clean sheet of paper, work on conceptual design, build prototypes, participate in flight tests, and maybe even help see it through to production—all in a span of a few years. I have a good work/life balance and I love the people I work with, too."
At AeroVironment, Klingebiel was the lead engineer on the DARPA Nano Air Vehicle Program—the robotic hummingbird. Klingebiel's contributions included design, machining, and testing of wing flapping and control mechanisms, circuit board design, and embedded flight control software.
He has also taken the lead in guidance, navigation, and control for the Snipe Nano Air Vehicle on which he was responsible for embedded flight control software. He was also a technical lead for the DARPA Fast Lightweight Autonomy program.
Currently, Klingebiel is an AeroVironment senior staff Robotics/GNC engineer.
In 2011, he and the Nano Hummingbird team received the Popular Mechanics Breakthrough Award in Robotics and were 2011 Aviation Week Laureate Awards finalists. In 2012, he was honored for Best Paper: Advanced Vertical Flight Category by the American Helicopter Society.
Klingebiel holds a current certification for commercial drone operation.