Distinguished aerospace alumnus learned from life's unexpected derailments
Paul Dees started life after college with a 14-day whirlwind in 1983—something he jokingly says he doesn't recommend. "I defended my master's thesis on Thursday, got married on Saturday, went to San Diego for a weeklong honeymoon, then back to Illinois to pack up and move to California for my new job at Northrop as a flight simulation test engineer on the F-20 Tigershark flight controls simulation."
Life didn't get much slower after that. Two years later, in 1985, he moved to St. Louis for a job at McDonnell Douglas as an aerodynamics drag and performance engineer. Then in 1991, the unthinkable happened. The Defense Department cancelled a major program and he along with many fellow junior engineers were laid off.
Dees describes that time of his life as hard. "That's when your faith gets tested. And when I say faith, I mean my faith in God. My wife Kay, who I met at Illinois, and I had little kids. She had a home-based business that was doing well so she was heartbroken to have to leave. The United States was at war with Iraq. I survived a first layoff of 10 percent before the A-12 cancellation, then after the cancellation, I was among the 20 percent who were let go due to that."
Dees said he was among a number of Illinois classmates at McDonnell Douglas who were all laid off at the same time. "One went to Alaska and went into software. One moved back to rural Illinois and became a civil engineer. I ended up choosing Boeing from several offers after many months of being out of work. I felt like my prayers were abundantly answered. It worked out well, but it was hard at the time, and it was definitely a turning point for me."
Today, Dees is a Boeing Technical Fellow in Airplane Configuration and Integration at Boeing Commercial Airplanes in Seattle, Washington. He developed and leads the teaching of several internal-to-Boeing aircraft design classes. He also develops wing and propulsion designs early in the product development process.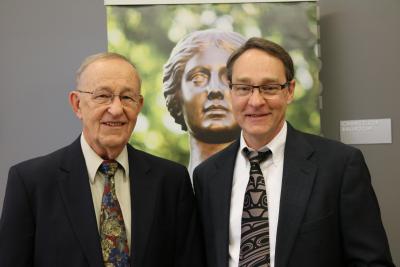 Dees received a 2018 Distinguished Alumnus Award from the Department of Aerospace Engineering. He holds two aerospace degrees from U of I: a B.S. in 1981 and an M.S. in 1983.
"I think you learn more from your failures than your successes," Dees said. "When I came to Boeing after having been laid off, I had a very changed attitude. I was leaner and hungrier and I knew that I had to produce above and beyond my colleagues in order to contribute and earn favor."
At Boeing, Dees started as an engineer in aerodynamics working on the 737 and 757. He developed the 737NG engine nacelle outer mold line and integrated the air data between Aero and the flight deck, then worked on configuration aerodynamics of the 747X engine nacelles, the supersonic High Speed Civil Transport, and was part of low-speed Aero flight test of the 767-400.
"My career took another turn when I switched engineering disciplines from aerodynamics to configuration design," Dees said. "I had worked for 17 years as an aero guy and for me, change comes hard, but I also felt that it could be good. It was parallel enough that I didn't need additional education but I did have to acquire many new skills. I was comfortable in my previous specialty, but as an airplane configurator you can't be biased toward one specialty. You have to be knowledgeable about all of them."
Much like an architect must understand building codes, plumbing, carpentry, electrical, etc. so an airplane configurator needs to be knowledgeable about aerodynamics, structures, loads, stability and control, flight deck, airplane systems and structure, as well as payloads and interiors.
"Our technical skills include listening to everyone else, taking all of their input, and then creating something that meets everyone's needs and as many wants as possible," he said.
In his new role, Dees led the integration of winglets onto the 737-800. He served as an airplane lead engineer on the Sonic Cruiser program, which led to developing the exterior differentiation and the wing planform of the 787. Dees also co-developed the wings of the 747-8 and the 777X, including leading the folding wing tip development for four years.
Dees talks about his work in terms of creativity, the artfulness of design. "As airplane configurators, we are responsible for creating the highest level drawing or CAD definitions. These include the general arrangement drawing—a top view, side view, and a front view—of the entire airplane, as well as the centerline drawings of the major component's internal structure. But it's not a solo effort. For example, on the Boeing 787, I was co-leader of a team of 20 to 30 people that developed the basic wing architecture. People came and went on this team over the couple of years it took to complete. We were involved early in the process. On the 787, at its peak, Boeing had thousands of engineers working on it."
About his studies at Illinois as an undergrad and graduate student, Dees said he had a few key classes—applied aerodynamics, aircraft performance, basic structures, and flight dynamics—that he has applied throughout his entire career.
"I've been very blessed with some amazing professors, mentors, bosses, and colleagues in my career."
Dees recalled that coming to Illinois, he knew he wanted to be either a missionary pilot or an aerospace engineer. "The only doubting I had was when I was in grad school and working on my thesis on a rotary wing related topic. Wind power was just catching on and I wanted to be ready to design wind turbines. If I switched my thesis topic, it would have added another year to my masters.
"At that point, I decided that I really loved airplanes but also I decided to finish what I started."
Dees and his wife Kay have a grown son and daughter and two grandsons.