Faculty adapt to teaching online, even labs
Professor Ioannis Chasiotis keeps the same office hours and posts his lectures and labs online on the same day as they were offered during the first half of this unforgettable spring semester. He said he does it because he wants to help his students in AE461 maintain academic discipline amidst the sudden shift to all-online learning, which was initiated in mid-March to prevent the spread of COVID-19.
There are just over 100 students in his AE461 Structures and Control Lab. It is a required class for all aerospace engineering seniors. It focuses on experimental methods in the laboratory. The students were already divided into 21 lab groups of four to five each. They still have access to Matlab, the computer program used to run data, but Chasiotis had to create an online version of the hands-on lab portion of the class and he had to do it fast.
In early March, he suspected that classes might move to online delivery and started working on a plan. Chasiotis said although he has taught the class every spring for the past 15 years, teaching it online is a brand new experience which has come with a steep learning curve, even for him.
"The online courses already offered by the University of Illinois are streamlined—the professor walks into a special audio/video room on campus and the lectures are recorded. This is different," Chasiotis said. "I have had to convert all of the course material into an online form. The major challenge is that the class is primarily a lab. It's like creating a new course from scratch. We have the content for the hands on version of the course; however, it is not as simple to present it online."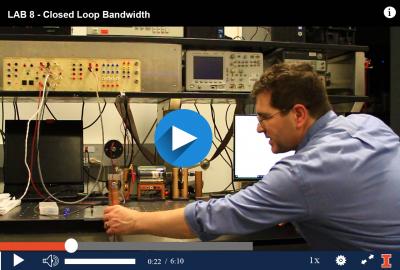 Over the week of spring break, Chasiotis, lab managers Dan Block and David Farrow, two of his teaching assistants, Eric Alpine and Yiguang Zhang, and his graduate student Kuo-Kang Hung, recorded most of the videos for the online delivery of the labs, while observing social distancing practices. "We only had two or three people in the same room at any time," Chasiotis said. "In the beginning, the person demonstrating on camera didn't wear protective gear because it would be distracting, but anyone else in the room wore a face mask and gloves. Very soon though we decided that a face mask and gloves are required for everybody, and the narrator moved behind the camera."
The recorded lectures and labs are very casual in presentation, which makes for a very relaxed viewing, but according to Chasiotis, the casual style was not intentional, but was out of necessity because of the time constraints he had to produce them.
"For a very polished video presentation, even one lab session would have taken all day. So to make things happen, we first agreed what we would say, shoot a few minutes video and then move on to the next part of the lab assignment. In the process, we found issues such as whoops, the students cannot figure this out without being physically in the lab. In those cases we had to spend a lot of time figuring out how we could present the material online and also generate appropriate data for the students."
For the lectures, Chasiotis keeps things moving by using a stylus on a touchscreen to draw on top of the PowerPoint slides while he narrates and records them via Zoom—something he had never done before—then post-produces them in Adobe Premier Pro.
Senior Ted Lataif is studying online from his family home in Georgia. He said there are advantages to having the recorded lectures. "Because they're recorded, and I can go back five or 10 seconds and watch it a few times until I understand it. Or if there's an area that I feel like I do understand, I can change the lecture speed and go a little faster through that bit," he said.
Lataif also described the interactive nature of Chasiotis' online lectures. "In class, he used similar slides and maybe a laser pointer, but when he lectures online, he uses circling a part of an equation or writing in the margins as a way to help us follow along exactly where he is on the slide."
Having taught the class 15 times, the content is not new to Chasiotis; delivering all of the content online has been the challenge. "I've never done computer graphics, shot, or edited videos before, so that's been new to me. Adobe Premier Pro has a steep learning curve. We shot the lab videos using two to three cameras. I even had to learn how to do video-in-video," he said.
Chasiotis said he has been busier this semester than he has ever been, because even though the raw lab videos are mostly shot by now, they aren't edited, and many more lab data need to be produced for the different student groups. He spends long hours each week editing the videos, recording his lectures, managing the online portal where students upload their group assignments, communicating with students, developing data sets together with his TAs, and trying to stay a couple of days ahead.
"As much as it is possible, we need to generate real lab data for every group—that is 21 data sets for each lab assignment. Most weeks have one lab assignment but others have three… The burden is on us to make sure that the lab data make sense and are usable. In a regular, hands on, lab session the students are responsible for their data. The TAs grade the lab assignments and answer most of the students' questions, which is a big help, but they are also learning on the job. They haven't necessarily taken this course before so I have to step in to help at times," he said.
Maintaining the familiar pacing of the academic week is one component Chasiotis believes is very important. To do that, he said the course videos are posted immediately after the students deliver the previous lab report. "They finish one assignment, then they can view the next lecture, lab video, and assignment, just like in a regular semester. I told them, there's not going to be any binge watching."
Chasiotis also beefed up the course guidelines to help eliminate any confusion that can arise from this transition to online learning.
"I had in mind that there would be a lot of entropy once we went online. It was important to set clear ground rules of what is expected. They are rigid, yes, but it was done so that we can focus in delivering the course content and take away any randomness because this course has a lot of logistics. Students had all of the class expectations upfront. That way, they can focus on the content, rather than the procedures."
Chasiotis said although the online version of the course is clearly different than what the students ordinarily experience on campus, the end goal is the same. "The desired learning outcome has to be identical," he said. "Students can't ask questions in real time, but now they can watch a lecture or the lab procedure in a video over and over until they understand what's happening and also email us their questions or join our Zoom office hours."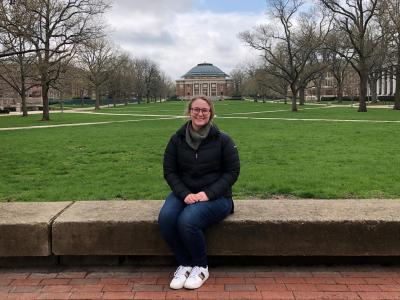 Elena Kamis is a student in Chasiotis' class. Because she is from New York, and the COVID-19 virus was spreading there, she chose to stay in her apartment near campus for the remaining weeks of the semester. Kamis said she was apprehensive about all of her classes moving online.
"I like to go to class and I liked the interaction with professors and peers," Kamis said. "I learn better by talking through stuff. I have a lot of questions and I'm not shy about asking. I email Fan Yang and Mani Kadiyala, the two TAs for the class, and they are really responsive. If it's a question that's really urgent, I'll cc Professor Chasiotis, but my TAs have been very, very responsive. I probably email them twice a week."
She also said she appreciated the way Chasiotis prepared her for what was to come and how he has followed through.
"Professor Chasiotis was concerned for his health and all of our health and his TAs' health. I respect him for the fact. Honestly, he seemed more concerned about the individuals than the coursework," Kamis said. "He's also very organized. He posts things when he says he's going to post things. We had one audio error in a video and he fixed it within the day."
Moving content online has come with additional pluses. When this semester is over, Chasiotis said he "will have content available to use in the future to train new TAs, for example, or, in the past when students were sick and missed their lab, it was hard for them to make up the work. In the future we'll be able to make the video of that lab available to them for viewing."