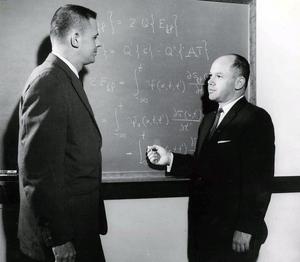 A patriarch of Aerospace Engineering at Illinois, Emeritus Prof. Harry H. Hilton has been made a 2014 Fellow of the American Society for Composites (ASC).
Hilton is an internationally recognized authority in viscoelasticity and aero-viscoelasticity. He has published or had accepted for publication over 300 papers in archival journals or conference proceedings.
Although "officially" retired from AE the past 24 years, Hilton has remained extremely active in research, graduate teaching, and public and professional service. In addition to his role with ASC, Hilton is a Fellow of the American Institute of Aeronautics and Astronautics, and is a member of several other organizations including the Society of Experimental Mechanics, the Society of Engineering Science, the International Community for Composites Engineering, the International Association for Computational Mechanics, the American Institute of Physics, the American Society for Aerospace Education, and the American Academy of Mechanics.
Dr. Robert M. Jones, professor emeritus at Virginia Tech University, was joined by three other former ASC presidents in nominating Hilton for the latest honor of ASC Fellow.
Prior to retirement, Hilton's career in AE spanned from 1949 to 1990. By 1957 he was a full professor, and served as department head from 1974 to 1985. He served stints as an assistant dean in the College of Engineering at Illinois, and had taught every AE undergraduate course except propulsion to thousands of students.
In recognition of Harry's 65 years of service to Aerospace Engineering at Illinois, the department will honor him with a ceremonial dinner on Friday, October 24th. The event, which will take place on homecoming weekend, will also celebrate the department's 70th anniversary in the College of Engineering. Details for the event will be coming soon from the Aerospace department.