Just doing it: Samantha D. McCue, BS '13 named AE Outstanding Recent Alumna
As a recent graduate from the Department of Aerospace Engineering at the University of Illinois, Samantha McCue has learned how to seize opportunities, inspire others, and make things happen. She is the recipient of a 2019 Outstanding Recent Alumna Award from the department.
While an undergraduate student at the University of Illinois, McCue used the summers to get a jump on her career in aerospace. She held internships at NASA, Rolls-Royce, and UTC Aerospace. McCue earned a Bachelor of Science degree and a Professional Pilot Certificate from U of I in 2013 and currently serves on the department's Aerospace Alumni Strategic Advisory Committee. She completed a master's degree in engineering systems management from Texas A&M this year.
McCue began her career as a Systems Engineer with Cimarron Software Services working on the Boeing Commercial Crew Program in Houston. She served a variety of roles in the Systems Engineering, Integration and Test organization including Test Engineer, Certification Engineer and Lead Instrumentation Engineer for the flight test vehicles.
"In the beginning, everything was new and I was learning a lot," McCue said. "I was young and hungry and just soaking everything in like a sponge. But, after about a year and a half, there didn't seem to be opportunities to advance. I realized that I needed to be my own advocate. It was surprising to realize that I'm the one that gets to decide what I do next."
McCue said, with advice from friends, family, and a mentor outside of the company where she worked, she learned to be more analytical about her career and build a plan to move forward.
"It takes a lot of effort to make a change," she said. "I needed people other than my co-workers to remind me that everything would be ok. Everyone stands in their own way, right? And co-workers can be in a bubble of disbelief, not wanting to admit that there should be changes. You really need an outside opinion or perspective."
Currently, McCue works for 5D Systems as the Integration and Test IPT Lead and Flight Test Director for a newly designed full-scale unmanned aerial vehicle. She has been a part of the clean-sheet aircraft design through integrated system testing. McCue led the program team through test range integration and first flight this year in March.
"I've changed the way I think about my career as a whole," McCue said. "Now I'm in a position where I have more responsibilities. I've learned more technically in this last three years than in in all my other jobs combined. I've had a lot of hands-on experience and leadership opportunities. Getting to see something from ideas on paper all the way to a flight test has been a remarkable experience."
Finishing the flight test in March gave McCue a chance to step back and see what she'd achieved. She was the leader, the only one under 30, and the only female on a team of senior, and mostly ex-military, men.
"Looking back, there could have been so many times when I could have considered going back to another job with a different environment, fewer hours, and lower stress," she said. "But in the end, I did it. I was shocked at the result, but I shouldn't have been. We should be shocked when we stand in our own way, not when we succeed."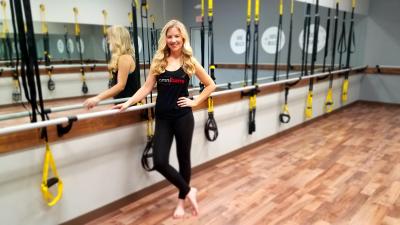 In addition to her aerospace endeavors, McCue has a passion for health and fitness. She owns and manages two boutique fitness studios called Omnibarre in Austin and Houston. In this capacity, she hires and trains new instructors, teaches classes (when she is in town), handles marketing and administrative duties, and serves as the company's jack-of-all-trades.
McCue admits that she has a driven personality and is on the move every minute of every hour of the day. By way of example, she said after getting back from California at midnight the previous Friday, she gave two, five-hour training sessions on Saturday and Sunday for new instructors. And that was after she'd already taught three classes each of those days.
Although her engineering work takes her past regular hours on a regular basis and she travels 50 to 70 percent of the time for that job, she makes it work by staffing the fitness centers with superstars so she has plenty of instructors and desk staff who can fill in for her when needed.
"My involvement in the fitness centers is such a stark contrast to my day job that it doesn't feel like work," McCue said. "It is work and I have a lot of responsibility, obviously, but a different kind of responsibility.
"I also get different benefits from my engineering work and my fitness centers," she added. "Bringing fitness and exercise, especially to women who may otherwise lead sedentary lives, is very meaningful and important to me. That's what my fitness centers are about."
McCue said Barre is a low impact fitness program--a fusion of ballet, yoga, and Pilates—so anyone, of any age, with any previous injuries can do it.
"Everyone's broken, whether it's a hip, or a knee, or a back, or just had a baby, or four C-sections," she said. "That's the way we live life and that's ok, but women often spend less time fixing the problem because they're busy helping everyone else. I like to think I can make an impact on that population of people and I want to lead by example."
McCue shared a quotation attributed to Amelia Earhart saying, "the most effective way to do it, is to do it." She has claimed the quote as true for the way she approaches life.
"Today we are constantly bombarded with things that make us doubt ourselves, when 90 percent of the time, if we just did it we'd be fine," McCue said. "You can do anything. I'm a huge advocate for women in STEM, and to make meaningful change across a variety of industries, there needs to be more women out there doing it. People will tell me I'm amazing for doing it all. I'm not amazing. I'm just doing it."