Meeting personal commitments is key!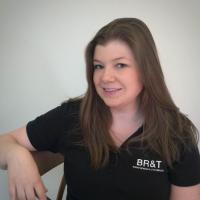 Gina M. Miller, BS 05, MS 07, winner of the Aerospace Engineering at Illinois 2016 Outstanding Recent Alumni Award, is a Materials and Process Engineer for The Boeing Company in Ridley Park, Pennsylvania. She currently leads the Boeing Research and Technology Vertical Lift Composites Laboratory that provides receiving inspection and engineering laboratory support for non-metallic material systems.
Miller began working with The Boeing Company in 2008 after earning her Master of Science degree under the direction of Prof. Scott White. At Illinois, Miller performed research in the Autonomic Materials Systems group, developing self-healing film adhesives. At Boeing from 2008 to 2010, she worked as a laboratory engineer and project leader. In 2010, Miller became the Technical Lead Engineer for the Boeing Research and Technology Vertical Lift Composites Laboratory.
Miller has focused her career on material property development and production support for rotorcraft and commercial platforms. She has supported numerous adhesive characterization and bonding process projects and is regarded as a subject matter expert on mechanical testing of adhesives. In addition to her technical work, Miller serves on an enterprise steering committee for the Technical Lead Engineer community that provides an infrastructure for over 7,000 Technical Lead Engineers across The Boeing Company to improve technical performance, strengthen engineering accountability, and develop a stronger technical workforce.
In addition to her Aerospace Engineering at Illinois degrees, Miller is currently pursuing graduate work in Materials Science and Engineering at the University of Delaware. Miller is a member of a number of industry organizations including the American Institute of Aeronautics and Astronautics (AIAA), Society for Experimental Mechanics (SEM), and Women in Aviation (WIA).
Q: Of the achievements throughout your career, please elaborate on the ones that have given you the most satisfaction and why?
MILLER: I get a lot of satisfaction and enjoyment out of solving difficult technical problems – whether it be solving a difficult homework problem set, troubleshooting an issue in the lab, or determining root cause for a process or part failure. I also get satisfaction when I am able to help make connections between individuals or groups – for example putting people in different groups or different parts of the company in touch with each other when they have projects, data, or expertise that could support each other.
I am extremely honored to be receiving the 2016 AE Outstanding Recent Alumnus Award. My time at Illinois has benefited my career tremendously and I am very grateful and appreciative of the Illinois faculty for my undergraduate and graduate education. To receive the alumni award is really above and beyond, and I am extremely grateful.
Q: What have been the most useful lessons you have taken from your time as an AE student, and who helped you to learn them?
MILLER: I strongly believe that my time as an AE student at Illinois prepared me for both rigorous graduate research and for working in industry. The breadth of the undergraduate program provided a solid foundation for the work I do today. While my day-to-day work focuses on composites and non-metallic materials, my experience at Illinois serves me well when interacting with engineers in other disciplines and in working on cross-functional projects.
Beyond the solid technical foundation, as an AE student I learned how to approach technical problems and address them in a methodical way. I also learned how to persevere through difficult projects. These skills/attributes have served me well over the years!
Q: What have been the most useful lessons you have learned during your career
MILLER: I have learned to not accept information at face value and to continue to ask questions until I understand the concept or data. Also, some of the best opportunities I've received were a result of identifying a need and volunteering to fill it. Being flexible and willing to help out where needed as much as possible, while being able to meet commitments, has opened doors for me. Meeting personal commitments is key!
Q: Who have been your inspirations, particularly in AE?
MILLER: The AE faculty at Illinois is world class! A comment in an early undergraduate advising session from Prof. John Lambros gave me confidence that I could be successful in graduate school and put me down the path of pursuing undergraduate research.
Profs. White and Nancy Sottos (AE affiliate and faculty member of Materials Science and Engineering) are constant inspirations and I am grateful for their continued advice and wisdom over the years. Among the innumerable lessons I've learned from them, they have taught me to only change one variable at a time, to never rest on one's laurels, and to expect excellence as a baseline.
I also continue to be inspired by my fellow 2005-2007 AE alumni and AMS research cohort. Their continued friendship, support, and successful careers in academia and a variety of industries are a testament to the value of the network of AE and Illinois alumni.
Q: What advice can you offer current students?
MILLER: When I was an undergraduate student, I held myself to the expectation of progressing along a "typical schedule," graduating in four years, finding a job immediately after, etc. In school, I often felt like it was too late – too late to switch majors, too late to add a minor, etc. With age, I've found that it is rarely actually "too late," and that one's educational path or career path does not have to follow what is considered typical to be successful. So I'd advise students not to feel locked in and to take the opportunity when you have it!
Another piece of advice would be to not let your learning and education end the day you graduate. I am of the opinion that continuous lifelong learning is critical!
Q: Do you have any comments on or predictions for the future of your industry?
MILLER: I am not sure that I'm so bold as to make a prediction on the future of aerospace, but I will say that I am excited about the continued and increasing use of next generation composites and adhesives on aircraft platforms.