NASA funding to advance aerospace engineering education and careers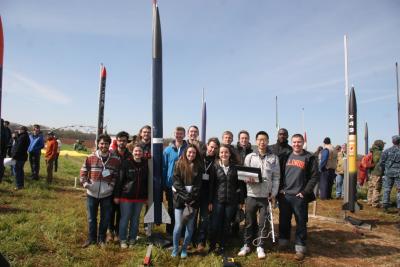 The Illinois Space Grant Consortium, led by the University of Illinois at Urbana-Champaign, has been selected to receive funding for two proposals from NASA to promote educational opportunities in space science and engineering careers with a combined total of $900,000.
Illinois is one of 52 proposals awarded through NASA's National Space Grant College and Fellowship Program, aimed at attracting and retaining more students from institutions of higher education in science, technology, engineering, and mathematics programs. The Illinois Space Grant Consortium will receive $700,000 to increase diversity and inclusion in STEM fields.
"This is the first year of our four-year NASA Space Grant Consortium base award," said Josh Rovey, AE faculty member and director of the ISGC. "It's a $2.8 million program to provide STEM outreach, education, and engagement to undergraduates, graduate students, K-12 students, and teachers focused on science and technology of NASA mission directorates."
Additional funding in the amount of $200,000 has been awarded to ISGC as an Artemis Teaching and Resource Availability Award. Its intent is to inspire the next generation – the Artemis Generation. Illinois is one of just six universities receiving Artemis awards that will advance the quality, relevance, and overall reach of opportunities to engage students as NASA takes the first step toward putting the first woman and next man on the Moon by 2024.
The ISGC will develop learning resources, enabling self-study of topics and technologies directly relevant to Artemis, such as habitats, robotics precursor missions, and exploration spacecraft. The end product will be a free online course, develop of which is being led by John Shelton. Shelton is an assistant professor of mechanical engineering at ISGC affiliate institution Northern Illinois University in DeKalb.
Als
o included is a broad partnership of contributors spanning the state of Illinois and students from seven additional states will participate in the initial evaluation of the learning resources.
"We'll draw on experts in the subject matter from all over the state to create 10- to 20-minute videos that will be a part of the online curriculum," Shelton said. "The series will guide users to a particular objective."
Shelton described the course as modules that would each take about an hour to complete. Although the primary audience is undergraduates, the course will be available to anyone, including K-12 students and the general public
"After U of I and NIU students test the online course and suggest changes to improve it, we'll request feedback from other universities in the consortium that use the modules in their classrooms. Then we'll seek ways to connect it to current curriculum so instructors and others can incorporate it into the courses they teach." Shelton said.
The Illinois Space Grant Consortium is part of NASA's National Space Grant College and Fellowship Program since its inception in 1989. NASA's Space Grant Consortia operate in all 50 states, the District of Columbia and the Commonwealth of Puerto Rico. In addition, NASA partners with more than 1,000 affiliates, including colleges, universities, industry, museums, science centers, nonprofit organizations, and state and local agencies, to enrich science and engineering education, research, and public outreach efforts for NASA's aeronautics and space projects.