Outstanding recent alumnus credits faculty guidance, technical training, and soft skills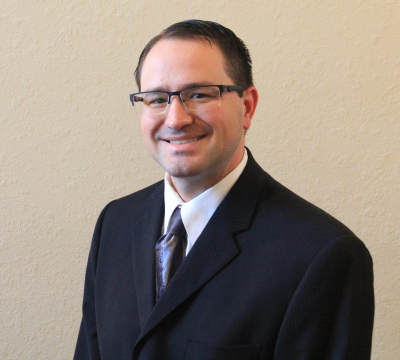 After receiving a bachelor's degree in engineering mechanics from the University of Illinois, and a master's degree in aeronautical and astronautical engineering in 2002, it was time for Jason Kamphaus to make a decision.
"I was trying to figure out what to do next," Kamphaus said. "I was considering going to law school, starting a doctoral program, or just getting a job. I had a lot of conversations with Professor Scott White about what path to take. He didn't push me one way or the other. He just advised me. He was really good at explaining the pluses and minuses of each of the different options."
Ultimately, Kamphaus decided to continue to work with White and completed his doctorate in aerospace engineering in 2007. This year, Kamphaus received an Outstanding Recent Alumnus Award.
According to White, who nominated Kamphaus for the award, "Jason pioneered a novel approach to self-healing polymers with enhanced environmental stability. His work was the first to identify a new chemistry approach for self-healing beyond the pioneering work on Grubbs' first generation catalyst."
From Illinois, Kamphaus began working for Schlumberger in Rosharon, Texas, as a mechanical engineer/design engineer in artificial lift—working on pumps that are put into the ground to lift ground resources. He wasn't there long before he was presented with a unique opportunity.
"The idea was to move the engineering team from Texas to Singapore to be closer to the actual manufacturing of the products we were working on," Kamphaus said. "My kids were young—three years and 18 months. They weren't in school yet, so my wife and I said, sure, why not."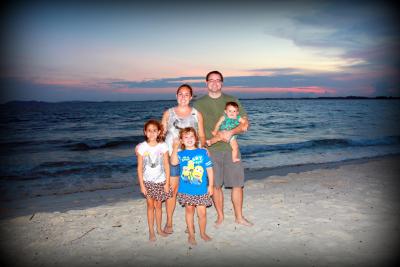 Kamphaus and his family spent five and a half years in Singapore—with a third child born there during that time. At the Schlumberger plant, he managed a team of approximately 15 people in new product development and on the gas lift product line he served as the interim product line manager.
Since working at Schlumberger, Kamphaus has been co-inventor of eight patents and one patent application in the area of well production technologies. Today he is a team lead for the firm. He has managed more than 15 projects ranging in budget from $230,000 to $2.8 million. He has also mentored more than 20 engineers that included guidance on their careers, acting as a subject matter expert for their projects, and teaching new engineers in the group about the product and operations.
"We developed patents on a whole new pump system," Kamphaus said. "We had to create a new pump, but not with a lot of fancy sensors, so we could keep the cost down. We had to design how it would deploy and how to suspend the pump in an oil or gas well. One of the things we developed while I was in Singapore was a cable that could convey power and have the physical strength to raise and lower the pump, but also to provide feedback about what was going on down in the well."
Kamphaus said about his time in the Department of Aerospace Engineering at Illinois that it was academically challenging as well as intellectually stimulating.
"I think I've had a broader education than many of my peers at Schlumberger," Kamphaus said. "We do a lot of modeling and simulation and everyone understands it, but I'm also able to interact with people who do Finite Element Analysis and Computational Fluid Dynamics full time. I can speak the language and ask the right questions."
But in addition to the rigor from Illinois, Kamphaus credits his research group led by Scott White for the soft skills he has and uses on the job.
"We had weekly meetings and about once every semester and during the summer, I had to give about a 10-minute presentation on my research to the group" Kamphaus said. "It was a broad audience—from undergrads to faculty members. We got a lot of feedback from those presentations. It taught me how to be 'on my toes' during the question and answer period.
"From that group experience, I learned public speaking skills, how to prepare for a presentation, and how to determine what an audience really wants to hear. That particular audience was highly technical and very knowledgeable---much more than I was at the time. So I learned a lot about how to be prepared and to anticipate questions."
Kamphaus was most recently recognized for his exceptional technical performance in well design, intervention, and performance. Specifically, he won the Schlumberger Bronze Award (2016), the Bits and Drilling Tools (BDT) President Award (2016), and the World Oil Award for "Best Well Intervention Technology" (2016).