A Q and A on diversity with Dept. Head Jonathan Freund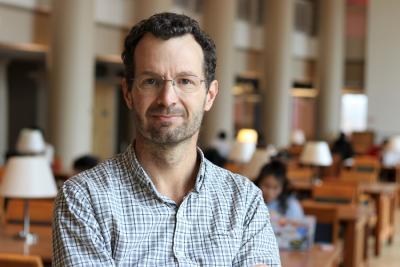 Why is diversity valuable in academia and in STEM?
I see two main costs when we fail---in any way---to be diverse.
As a leadership institution, Illinois does world-leading research and trains future leaders to impact technology and society. Both are done best when we draw on the broadest possible pool of talent in aerospace engineering. This means welcoming recruiting from every race, country, disability, religion, gender, and orientation.
If anyone feels unwelcome, it is unlikely they will achieve their potential, which is a missed opportunity for the department, the university, and the society we serve. A diverse environment is one of the best ways to foster a sense of inclusion that allows realization of personal potential.
Where do we need to improve?
Everywhere, always. Although I am proud of what we have accomplished from where we started, it should not have taken over 30 years to graduate our first woman Ph.D. in 1977. Although we have some diversity within our faculty, staff, and students, we have a long way to go. We are in the business of generating and developing ideas and educating the tomorrow's leaders in engineering. Rich diversity brings more unique perspectives to the table. Those new ideas will result in a stronger, more successful department.
What is the Dept. of AE doing to increase diversity in its faculty, staff, and student populations?
We can define ourselves both by what we are and what we are not. Awareness of strengths we lack is just as important as nurturing the strengths we have---maybe more so---and AE is actively recruiting students, staff, and faculty to seek more strength through diversity. This entails energetic recruitment of the very best scholars to be AE faculty and creating scholarships to encourage students in underrepresented populations to come to Illinois for their education.
What are some of the student groups doing in response to racism?
I am thrilled to see engagement of both our graduate and undergraduate student societies, especially in response to the latest in a long series of national racial injustices.
The Graduate Student Advisory Committee released a thoughtful reflection recognizing that students "face disadvantages and challenges as a direct result of their race or identities, especially for those identifying as Black, Indigenous, or People of Color." I wholeheartedly support their wish to attack the root causes of systemic racism.
Similarly, students in Illinois Space Society expressed their support for the Black Lives Matter movement with both a statement and a call for action. The group is raising funds for the Innocence Project and are collecting donations toward BLM organizations that will be matched up to $6,000 by the Engineering Council. Their statement is available online.
I also want to thank recent alumna Natalie Pfister and senior Elena Kamis, and the entire women-in-AE informal network, for bringing many valid student concerns, especially around gender, directly to my attention.
What is your personal experience?
Frankly, it is thin. My adopted daughters do not match my race, which does put race on my radar in ways I otherwise might miss, and I have been close to many from different cultures, communities, and orientations. Still, I mostly worry that I've too often failed to notice the implicit privileges that have buoyed me, and I am ever eager to better understand different perspectives and learn what can be done to help us improve the department.
The recent violence and its root causes have been more upsetting than the COVID-19 pandemic because it is our fault as a society. There is no virus to blame for this. It is sad that these injustices have been ubiquitous for over 400 years, yet it took cell phone videos of tragic events to seed the present outrage. The New York Times 1619 Project podcast hosted by NYT staff writer Nikole Hannah-Jones, tells a vivid backstory, of both violence and economic exploitation.
What are you doing to learn more?
There are many resources available around campus and beyond. Here are just a few:
The Office of Inclusion and Intercultural relations is a great first stop for a variety of programs, workshops, and courses. For example, PSYC 496 Facilitating Intergroup Dialogue Processes explores the impact of gender, ethnicity, race, religion, sexual orientation, socioeconomic class, disability, and physical appearance on group dynamics.
Another great resource on campus is the Institute for Inclusion, Diversity, Equity, and Access which states that "Diversity is a prerequisite of excellence." The website lists many free webinars and courses, as well as lists of additional resources to explore.
Off campus there are many more sources for recommended reading to further our education and understanding:
A June post on Mashable provides short book reviews in, "17 books by black authors that are shaping our conversation about race." It includes The Hate U Give by Angie Thomas, which was the University of Illinois' One Book, One Campus selection for 2018/19.
Another list of "35 books about race, recommended by black Portland writers" appears on Oregonlive.com.
Following the tragic death of George Floyd and the subsequent violence against peaceful protestors, I read a powerful article by Jill Lepore in The New Yorker. "The History of the 'Riot' Report" speaks to the history of racial protest, the formal government and similar reports that have been developed to understand its causes, and the unfortunate inaction that follows. Let's have this be additional inspiration for follow-through, in our present circumstance and in all we do.
I look forward to hearing more perspectives and ideas, particularly from the voices in our world that have been silenced for far too long.
If you have any concerns, questions, or comments, please feel free to contact me.