Return to Apollo 13 webinar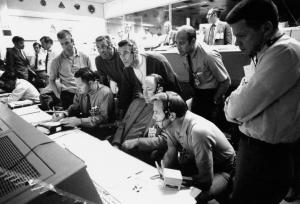 On Saturday, April 11, 2020--the 50th anniversary of the launch of the Apollo 13 mission--the Department of Aerospace Engineering at the University of Illinois at Urbana-Champaign, hosted a special webinar.
Originally, the event was to take place at The Virginia Theatre in Champaign prior to screening the film Apollo 13. Due to social distancing requirements to reduce the spread of COVID-19, the webinar moved to an online format via Zoom.
The Return to Apollo 13 webinar featured a panel of aerospace engineering experts.
Bill Weppner, GNC Flight Controller for Apollo 13
Michael W. Miller, Founder and Managing Director, Comspace Development, BS '76
Paul Boehm, Crew Support & Thermal Systems Manager, Orion Crew & Service Module Office, NASA Johnson Space Center, BS '88; MS '89
Shivani Ganesh, AE Class of 2021
Professor Michael Lembeck, Moderator, BS '80, MS '81, PhD '91
The webinar was recorded and can be viewed at https://www.youtube.com/watch?v=3Lj-VakvQNk.