Student CubeSail satellite launch imminent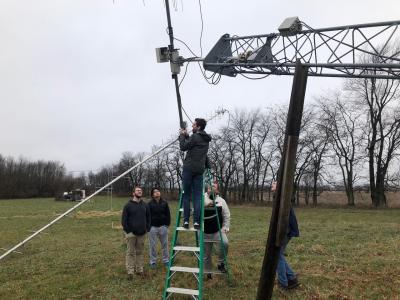 Anticipation mounts as the launch date and time is finally set for CubeSail, a small CubeSat satellite that is designed and built by CU Aerospace and engineering students at the University of Illinois at Urbana-Champaign. Barring any eleventh-hour glitches, the CubeSail launch window opens on Wednesday, Dec. 12 at 10 p.m. CST from New Zealand's Māhia Peninsula.
The Illinois satellite will hitch a ride on a Rocket Lab "Electron" vehicle, as a part of the Educational Launch of Nanosatellites mission for NASA.
The best way to watch the launch is via Rocket Lab's video live stream, which will begin about 15 minutes prior to the launch attempt. This stream offers the best views of launch and includes commentary about the launch process.
CubeSail is actually two small satellites, each about the size of a five-pound bag of sugar, although lighter. The two cubes will launch together, then separate when they reach an orbit of about 310 miles above the Earth. Each cube contains half of an 820-foot ribbon, or sail, that will unfurl between the cubes.
Watch a video produced by CU Aerospace to illustrate CubeSail's maneuvers.
The sail is made from a reflective material, making it a solar-powered satellite.
Unlike other satellites, "CubeSail is not an instrument designed to gather data or conduct scientific investigations. It is an engineering demonstration of a technique for steering a novel propulsion system, the solar sail," said Michael Lembeck, associate professor in the Department of Aerospace Engineering and director of the Laboratory for Advanced Space Systems at Illinois.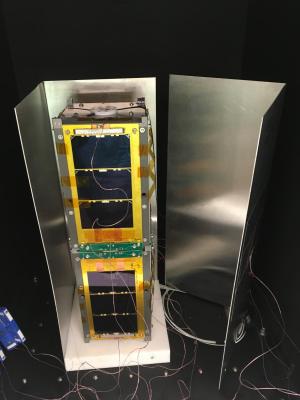 David Carroll, co-founder of CU Aerospace, and its current president, talked about how one problem was solved on the project. "One of the greatest challenges for CubeSail is the solar sail film deployment. You have to get it just right or the sail will twist and/or possibly slingshot back. To solve these issues we use 'gravity gradient' forces for stability and a carefully self-monitored deployment rate that gradually slows down in the last few minutes to eliminate any slingshot."
Carroll earned his bachelor's, master's, and doctoral degrees in aerospace engineering from U of I so he's seen the project from both the student and professional perspectives.
"CubeSail was first proposed in 2005 and received NASA funding in 2008, so it has been more than a decade in the works to get it designed, fabricated, acceptance tested, delivered, and launched," Carroll said.
Lembeck believes what students learn from the project is what's most valuable.
"Although the mission success rates for student launches is only 45 percent, what the students learn from the process and experience is immeasurable," Lembeck said. "For academic institutions like U of I, student education is often the primary measure of mission success, regardless of the ultimate outcome of the flight. And funding through NASA's educational program encourages students to pursue careers in science, technology, engineering, and mathematics."