Susan Althoff Gorton, '84 receives AE Distinguished Alumna Award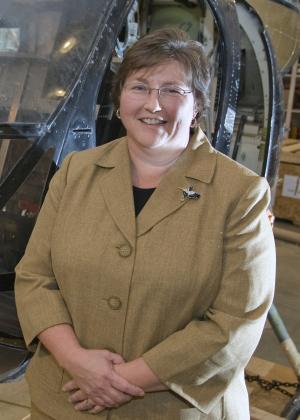 While still in high school, Susan Althoff Gorton came home from a field trip to Johnson Space Center saying, "I want to work for NASA." It took her a little longer than she anticipated, but she got there. Currently, Gorton is the project manager for NASA's Revolutionary Vertical Lift Technology Project.
Gorton received a 2019 Distinguished Alumna Award from the Department of Aerospace Engineering at the University of Illinois at Urbana-Champaign. She earned a master's degree from George Washington University in 1987 after completing her bachelor's degree from U of I in 1984.
"I have a large family of U of I graduates, so it was pretty much a given that I would come to Illinois," Gorton said. "But when I started there, I was undecided about my actual major."
When Gorton learned that NASA was only interested in astronautical and aerospace engineers, that's the major she chose. She was also enrolled in the co-op program, but as it turned out, NASA was in a period in which they weren't hiring, so she spent five semesters, or work periods during her undergraduate years with, at that time, McDonnell Aircraft (now Boeing) in St. Louis.
"The co-op program included the summers, so I'd be there for the summer, come back on campus for the fall semester and then return to McDonnell for the spring," Gorton said. "It delayed graduation by one year but it gave me about 18 months' worth of work, getting paid, too, so it helped my finances. The time spent there helped me learn what I liked and what I didn't like—targeting more of the aero side rather than the space side."
Gorton said when she was about to graduate, NASA wasn't hiring, but the U .S. Army had an embedded research group at NASA—now called the Army's Aviation Development Directorate. She took a civil service position there working side-by-side with NASA counterparts on technology problems.
After 15 years, a position opened in NASA, and Gorton applied for it. "It was a difficult move," she said. "I had invested 15 years in a specific research area and this was actually switching career fields. Putting in my application to make that change felt a little uncertain. But I finally was working for NASA."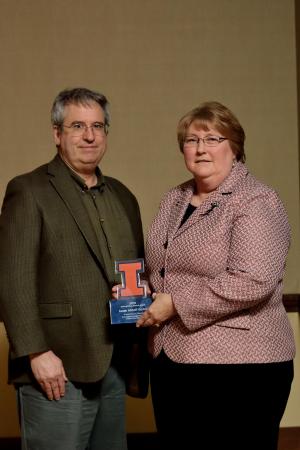 As project manager for NASA's Revolutionary Vertical Lift Technology Project, Gorton's desk is at the Langley Research Center in Hampton, VA, but she is responsible for the work done at Langley, Glenn Research Center in Cleveland, OH, Ames Research Center at Moffett Field, CA, and at Armstrong Flight Research Center at Edwards, CA—a staff of about 150 people.
"I have to do the funding, the planning, the advocacy—trying to put together a plan for where we're going and determine how can we usefully spend the funding allocated to us, what our goals should be, and how to keep moving in the right direction."
Gorton talked about a fundamental difference between what she was doing for those first 15 years and now.
"If you're a researcher and you want to climb the technical career ladder, you'll become an expert in your area. You may be leading a team, but it will be hands-on," she said. "But if you go into being more of an engineering manager, you have to be willing to be satisfied with making other people successful. You have to be able to get satisfaction from acquiring the resources, getting problems knocked down, and saying yes."
Gorton has authored or co-authored over 85 publications and presentations. She has received numerous awards, including two NASA Outstanding Leadership Medals, the NASA Exceptional Achievement Medal, the Army Civilian Service Medal, and the Army Research and Development Award.
Last year, Gorton received the title of Honorary Fellow in The Vertical Flight Society (formerly the American Helicopter Society International) and she has been an Associate Fellow of the American Institute of Aeronautics and Astronautics since 2009. She has led collaboration and partnerships with industry, academia, the U.S. Department of Defense, the Federal Aviation Administration, and other research organizations.
Watch short video of Gorton talking about rotary wing research.