Grad student participates from Puerto Rico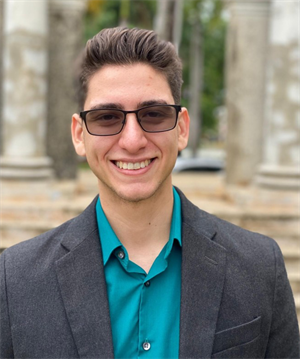 Although AE graduate student German Gabriel Saltar-Rivera is currently working on his degree online from Puerto Rico, distance hasn't stopped him from participating in extracurricular AE groups. In fact, he is on the leadership team of a new Minorities in Aerospace group.
Where did go for your undergraduate degree?
I did my bachelor's degree in Mechanical Engineering at the University of Puerto Rico at Mayaguez. There, I conducted research in aerospace and fell in love with the field which led me to minor in aerospace engineering.
Why did you choose to attend the University of Illinois for graduate school?
UIUC was one of my top two choices for graduate school from the start. I loved the synergy between professors and the wide range of professional development programs. However, what really made the difference for me was the wide range of amazing research projects available and the passion with which the professors talked about their work. I wanted to be in an environment where everyone was highly motivated to push the boundaries of knowledge.
Are you involved in any extracurricular groups on campus?
Currently, I am actively involved in a new group in the aerospace department for minorities and allies called MAero. I'm very excited about this group because it gives people from all underrepresented groups a chance to unite, form a larger community, and help others. We are also offering mentorship to graduate and undergraduate students and are involved in outreach to promote more diversity in the STEM fields. I encourage anyone that is interested to join.
What's one of the coolest things you've ever done?
I think one of the coolest things I've been part of was my
summer internship in Goddard Space Flight Center where I got to meet world-renowned scientists. During my time there, I was blessed with a scholarship from Nobel Prize-laureate Dr. John Mather. Receiving this award has definitely been one of the most exciting moments in my life!
Who is your advisor and what research project are you working on?
I am being co-advised by Dr. Villafane Roca and Dr. Freund. We are exploring ways to utilize machine learning to aid in the development of numerical models for the prediction of turbulent particle-laden flows.
What is a specific challenge you have faced or decision you had to make and how did you resolve it?
Being in computational research, I have to debug errors in the code almost on a daily basis. When facing a tough bug, I generally try to divide and conquer. I break the problem into smaller ones that can be easily solved or verified. This is a method that I try to apply to any problem, not just in research.
What has distance learning been like for you?
Distance learning poses its challenges, one easily can feel isolated and frustrated. However, the university has done a great job of providing alternatives so that, even from a distance, I feel part of a community. I am grateful to the faculty and staff that work very hard to make this a possibility.
What do you like to do for fun?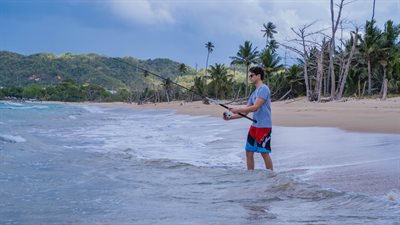 In my spare time, I enjoy playing board games, especially dominoes, or doing outside activities such as hiking with family and friends. When I'm alone, I enjoy reading, fishing, and playing Cuatro, a Puerto Rican instrument.