Kameron Jackson - AE senior, president of Minorities in Aerospace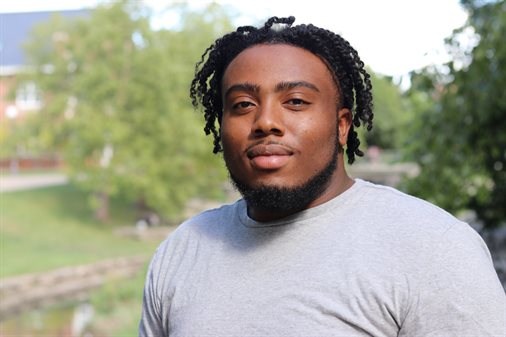 Kameron Jackson is a senior in aerospace engineering at the University of Illinois Urbana-Champaign. Jackson, who is from Chicago, is the president of Minorities in Aerospace Engineering—a group of faculty, staff, and students in the department that was formed in 2020. It is community of Black, Hispanic, Latino/a, Native American, and ally-member undergraduate and graduate students, post-docs, staff, and faculty in the Department of Aerospace Engineering who meet regularly to talk about issues, plan activities, promote mentoring, and have fun together.
Here are some of his thoughts about being a student at Illinois.
What has been your favorite class so far?
I chose to come to the University of Illinois because of the reputation of the engineering program and the many opportunities available to students.
What has been your favorite class so far?
The class that I enjoyed the most throughout my college career so far would be Eng 491 - Interdisciplinary Design Project with Professor Lembeck. I particularly enjoyed this class because it allowed me to work in the Laboratory for Advanced Space Systems at Illinois. Eng 491 allowed me to further explore my interests in CubeSats. I also learned how the engineering process works from the initial proposal to the requirements review to the finished product. The technical skills and knowledge I gained from Eng 491 have helped me bolster my resume, becoming a better-suited candidate for employment in the industry.
What extracurricular groups do you participate in?
During my tenure in Professor Saxton-Fox's research group, I was in charge of designing a custom system that would facilitate suction at a precise point in the test section. The goal of my system is to cause boundary layer separation of an imitation shark skin sensor located on a plate in the test section of the subsonic wind tunnel. Designing the system included months of literature review, contacting various vendors to order parts, as well as design and fabrication of custom components to complete the suction system.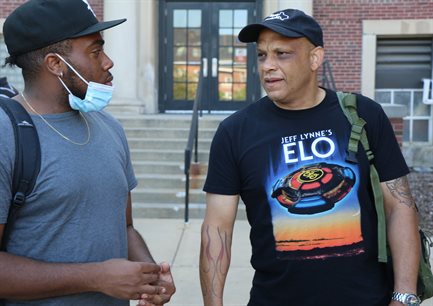 And this year, I am honored to hold the role as president of Minorities in Aerospace Engineering or MAero. I plan to help create events for faculty, staff, and students that support a more inclusive academic environment.
Watch a video of Jackson describing what he hopes to help accomplish this year in MAero.
Describe a challenge you have faced in college and how you coped/overcame it.
A challenge I faced in college was time management, especially during my initial years as an undergrad. To address my lack of time management, I went to workshops offered by various registered student organizations on campus and developed a way to keep track of my assignments.
What advice would you give to high school students who would like to major in aerospace engineering in college?
For any prospective high school student who wants to major in aerospace engineering, I would advise them to research all the different career options that are available in the aerospace field. Aerospace engineering is more than rockets and planes. Having an understanding of the diversity within the field can alleviate any disappointment that an incoming student might face, if they are only interested in rockets or space.
For an incoming Black student, my advice would be the same. But additionally, I would also tell them to get involved in the department as early as possible, whether that comes in the form of joining an RSO or undergraduate research.
What do you hope to do after you graduate?
I hope to continue to work on CubeSats and small format satellites.